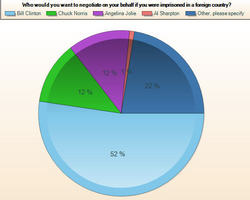 San Francisco, CA (PRWEB) August 18, 2009
After the heart-warming rescue of American journalists Laura Ling and Euna Lee was splashed across televisions and web browsers worldwide earlier this month--Zoomerang, the leader in online surveys, decided to celebrate with a fun one-question survey. The online survey provider asked over one hundred Americans via Facebook and email, "Who would you want to negotiate on your behalf if you were imprisoned in a foreign country?" It was a hard choice, but America decided.
Considering the heroics of former President Bill Clinton (and the other answer options provided), it's not surprising that 52% of survey takers said they would want Bill Clinton to save them from foreign imprisonment if the time came. Who else did Zoomerang nominate as top negotiators? Coming in at a dead heat, each with 12% of the respondent vote--Chuck Norris and Angelina Jolie were popular choices for this important mission. It's not hard to picture Walker Texas Ranger confronting Kim Jong-il, and Angelina is probably pretty tough in person. Another tidbit: two times as many men chose Angelina as their negotiator as women. Anyone who's seen "Wanted" would likely understand. The list ends with Al Sharpton, American Baptist minister and civil rights activist--a solid choice since he's not afraid of jail time or confronting authority. However, only 1% of survey takers thought Al was right for the job.
Survey takers were also given the option to pencil in their own negotiation hero, and 22% decided on someone else entirely to rescue them from foreign imprisonment. The wide variety of answers ranged from the logical "Papa Smurf" to the less strategic choice of "William Shatner." (He may be the Priceline Negotiator, but really?) On a more serious note, other answers included "Ron Paul, Hilary Clinton, Nelson Mandela, my mom and the Dalai Lama." Take the survey for yourself
About Zoomerang
Zoomerang, part of MarketTools, Inc., pioneered Web-based surveys in 1999 to give organizations a powerful, self-service alternative to conduct accurate comprehensive online surveys. Today, Zoomerang is the world's #1 source for online surveys, helping thousands of organizations, including over 70 of the Fortune 100, in over 100 countries. Zoomerang provides a powerful alternative for organizations that need to conduct fast surveys with minimal cost and effort. Zoomerang's business, educational and non-profit customers have created and sent more than 100 million surveys. Zoomerang supplements its surveys with expert professional services, including survey programming, and the recruitment and selection of custom groups of survey respondents. The survey provider also hosts MySpace polls and Facebook polls that you can use to get friends' opinions on your favorite social networks.
To learn more about how you can use Zoomerang to collect great insights for your organization, please visit us at Zoomerang.com and sign up for Zoomerang today.
###