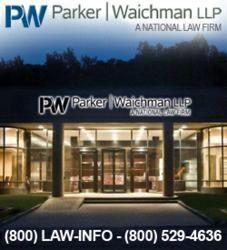 We are here to answer any legal questions for those who have suffered from heart complications after taking Zithromax
(PRWEB) March 13, 2013
Parker Waichman LLP, a national law firm dedicated to protecting the rights of victims injured by defective drugs, is informing the public about a recent warning issued by the U.S. Food and Drug Administration (FDA) over azithromycin. According to the agency's Drug Safety Communication, the antibiotic can cause a potentially fatal heart rhythm. The warning followed research showing that Z-Pak users had a higher risk of cardiac death compared to those taking a different antibiotic or no antibiotic.
"We are here to answer any legal questions for those who have suffered from heart complications after taking Zithromax" said Gary Falkowitz, Managing Attorney at Parker Waichman LLP. The national personal injury firm also offers free legal advice to individuals who believed they were injured due to other allegedly defective drugs and medical devices.
Azithromycin is a popular antibiotic sold under the brand names Zithromax or Zmax. It is also commonly called a Z-Pak. Yesterday, the FDA stated in its Drug Safety Communication that this drug "can cause abnormal changes in the electrical activity of the heart that may lead to a potentially fatal irregular heart rhythm." The agency said that patients at higher risk include those who have existing QT prolongation, low levels of potassium or magnesium in the blood, a slowed heart rate, and those who use drugs to treat arrhythmias. The FDA said that the warning was based on the agency's review of a study by researchers as well as one by Pfizer.
In May 2012, the New England Journal of Medicine published a study evaluating sudden cardiac death associated with several macrolide antibiotics, including azithromycin. The study found that patients taking Zithromax were 2.5 times more likely to experience cardiac death compared to those taking another common antibiotic or no antibiotic at all. The study was based on data from over half a million Medicaid patients between 1992 and 1996.
http://www.nejm.org/doi/full/10.1056/NEJMoa1003833
Parker Waichman LLP is offering free lawsuit evaluations to anyone who lost a loved one as a result of a sudden, heart related death that could be associated with use of Zithromax. Please contact their office by visiting the Zithromax Sudden Death page at http://www.yourlawyer.com. Free case evaluations are also available by calling 1 800 LAW INFO (1-800-529-4636).
Contact:
Parker Waichman LLP
Gary Falkowitz, Managing Attorney
(800) LAW-INFO
(800) 529-4636
http://www.yourlawyer.com