Cision PRWeb Resources
Why You Should Use a Quality News Distribution Service
Are you wondering why it makes sense to use a paid press release distribution service when there are so many places you can publish information online at no cost? Here are a few reasons to invest in paid distribution.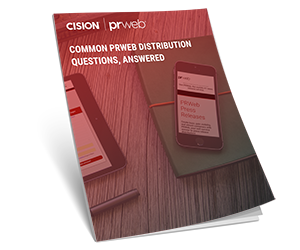 Common PRWeb Distribution Questions, Answered
Here are the most common questions you may have as you submit your release, and our answers to help make the process easy for you.
About Cision PRWeb
Get Big Publicity with a PRWeb Press Release
Cision PRWeb impacts customer behavior by providing efficient communication tools to continuously engage with target audiences across multiple online channels including search, social media and with industry-specific partner websites, bloggers and influencers.