What's New?
8 Marketing Ideas for Small Business
Making strategic business decisions about where to allocate limited funds is a day-to-day dilemma for small business owners. Here are 8 essential small business online marketing tips to get your marketing moving in the right direction.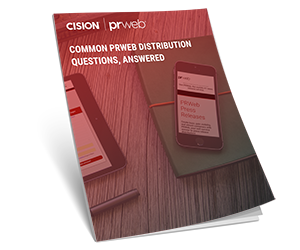 Common PRWeb Distribution Questions, Answered
Here are the most common questions you may have as you submit your release, and our answers to help make the process easy for you.
How To Improve Your ROI With Online News Releases
If you're tired of exhausting your marketing dollars on expensive campaigns that don't bring customers or positive ROI results, watch this webinar to learn ways you can use your news to successfully build your online presence, drive traffic to your website and improve search engine rankings.
About PRWeb
Get Big Publicity with a PRWeb Press Release
A PRWeb press release can help your business or organization get reach and publicity on the web across search engines, blogs and websites in just a few simple steps.