Cision PRWeb Resources
Writing A Quality Press Release: Write To Impress
While it's very important to make sure your online press release efforts help boost your company's search engine rankings, it's also essential to consider what happens after people stumble upon your news releases. In other words, don't forget that you're not just writing for search engines. Effective press releases are targeted toward both search engines and […]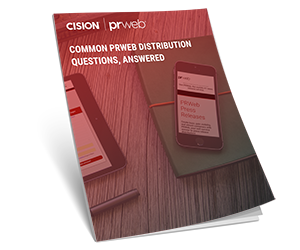 Common PRWeb Distribution Questions, Answered
Here are the most common questions you may have as you submit your release, and our answers to help make the process easy for you.
How To Use Your News To Grow Business In 3 Easy Steps
Speakers: Dana Willhoit, CEO, The Press Release Site If your customers can't find you online, they're going to do business with the companies they can locate! An online news release can improve your chances of being listed in top search engine sites such as Yahoo! and Google – right where your potential customers are searching […]
About Cision PRWeb
Get Big Publicity with a PRWeb Press Release
Cision PRWeb impacts customer behavior by providing efficient communication tools to continuously engage with target audiences across multiple online channels including search, social media and with industry-specific partner websites, bloggers and influencers.