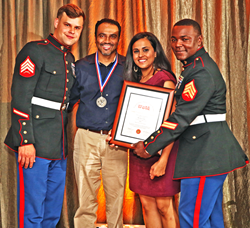 My intention is to take responsibility to improve conditions by my actions, as much as I can
Irving, TX (PRWEB) January 04, 2017
Dr. Nirav Patel, local dentist from Irving Texas, joined dozens of his dental colleagues from across America at a Gala event hosted by MGE: Management Experts in Florida honoring the U.S. Marine Corp and the Toys for Tots Literacy Campaign in a fight against illiteracy. The harm imposed on our children and future generations can no longer be tolerated. Millions of dollars are spent on education yet the U.S. ranks number 14 internationally. This is unacceptable and evokes a call-to-arms for effective participation by all.
Dr. Patel is more than a local dentist. He is an active and caring member of his community; always active in helping and caring for others. Case in point: Dr. Patel has contributed to many charitable organizations such as BAPS, an international socio-religious organization aimed at improving the health and wellness of individuals, families and community with activities such as walk-a-thons and health fairs. Dr. Patel has also been active in contributions for the American Diabetes Association, volunteer dental screenings at a local Hindu Temple, Blood Drives, Susan G. Komen Race for the Cure of Cancer, Water is Life non-profit organization, The Boys and Girls Club and many others, all directed at helping his community.
"I want to give back to my community," said Dr. Patel. "My intention is to take responsibility to improve conditions by my actions, as much as I can." This is also why he joined the fight against illiteracy at this gala and was awarded the Medal of Duty and a Three Star General's Commanders Award; presented by the U.S. Marines.
Looking at the facts one cannot deny that Illiterate children turn into illiterate adults, and those adults who are unable to read at a third-grade level not only feel excluded from society, but they also raise illiterate children, as they cannot teach them how to read. According to recent U.S. Census Bureau reports, more than 20% of children under 18 years of age live in poverty—the highest poverty rate in 15 years. That's 15.5 million children! Now, add this to the U.S. Department of Education's National Center of Education statistics whereby 44 million adults are functionally illiterate; and according to the National Center for Education Statistics, in Dallas County 21% of the population is lacking literary skills; that's close to one fourth of the population or one out of four people; Dallas, we have a problem. Furthermore, connect this with the Bureau of Justice statistics that about 41% of inmates in the State and Federal prisons and local jails had not completed high school or its equivalent leads one to ask: Is there a connection to illiteracy, poverty and crime?
This is what motivated Dr. Patel and hundreds of attendees of this Gala to participate and ended up ensuring that 110,000 children would receive not only toys for Christmas, which in itself is a great gesture of humanity, but also the gift of literacy and the hopes of a brighter future; thus giving these children a chance to be included and to participate in our free society and to succeed.
ABOUT DR. NIRAV PATEL Dr. Patel was raised in Houston, Texas and attended Houston Baptist University where he received his degree in Biology and Chemistry. Dr. Patel went on to pursue his Doctor of Dental Surgery degree from Baylor College of Dentistry in Dallas, TX. Dr. Patel is an accredited member of the American Dental Association, Texas Dental Association, and Dallas County Dental Society. Dr. Patel's practice, Dental Concepts Care, provides preventive dentistry for maintaining healthy teeth and gums, cosmetic dentistry for your beautiful "Smile Makeover" and restorative dentistry to repair your teeth and smile.
Dr. Nirav Patel
Dental Concepts Care
7423 Las Colinas Blvd, Suite 101
Irving, Texas 75063
972-869-2273
http://www.dentalconceptscare.com
https://www.facebook.com/dentalconcepts
https://twitter.com/dconceptscare
https://www.linkedin.com/in/niravpateldds
https://plus.google.com/117729172070662045358/about