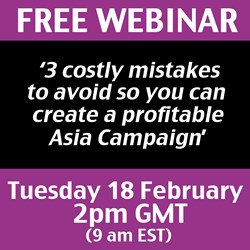 There are 3 common mistakes that foreign companies make when launching or expanding a business in Asia.
London, UK (PRWEB UK) 29 January 2014
The opportunities for new and expanding business in the dynamic and high-growth markets of Asia are more or less limitless.
However, with at least 21 countries to consider, even the most ambitious entrepreneurs, SMEs and other businesses in Western countries may sometimes feel overwhelmed when considering launching or expanding in new Asian markets.
'There are 3 common mistakes that foreign companies - even the biggest multinationals - make when considering launching or expanding business in Asia. These mistakes can cost millions of even billion of dollars,' says Price. 'As well as countless missed opportunities.'
In response to this, he will host a free webinar on Tuesday, 18 February at 2 pm UK time (9 am EST):
"3 Costly Mistakes To Avoid To Create a Profitable Asia Campaign"
In this webinar he will reveal:

A simple free, innovative way to overcome a big Cultural Mistake to attract Asian clients and partners
How to navigate a major Process Mistake so companies can position their BRAND correctly for their Asian market
The insider secrets to a key Marketing Mistake so they can create Premium cross-border opportunities
He will also show how this simple 'avoidance' strategy creates confidence and momentum for companies so they can forget all about fear of failure or of being left out of the market.
ABOUT DAVID CLIVE PRICE
With 25 years' experience of Asia business, David Clive Price helps Western companies, SMEs and entrepreneurs to launch and expand in Asian markets. His International Business Passport consulting packages and bestselling Master Key Series offer proven strategies for building profitable partnerships and gaining competitive advantage.
Media Contact Info
David Clive Price
david(at)davidcliveprice(dot)com
Location: London, UK