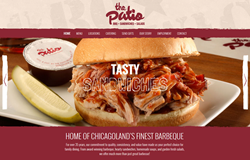 The process was quick and simple, yet all inclusive, and the result surpassed our expectations!
Chicago, IL (PRWEB) March 19, 2015
Idea Marketing Group has launched a responsive website for The Patio Restaurants, Inc. Known for their famous barbeque, The Patio has been serving the suburbs of Chicago for over 35 years. They hired Idea Marketing Group to redesign their existing website to better showcase what sets their food apart.
The Patio uses the finest quality ingredients that are preservative and filler-free, freshly-prepared the old-fashioned way. Their famous barbecue ribs and rotisserie chicken are cooked fresh throughout the day, and their signature smoked meats – sliced Beef Brisket, Pulled Pork, and Pulled Turkey – are seasoned and slow-cooked for hours. They also make their own soups from scratch daily and even grind and patty their own hamburgers.
The new website was built by Idea Marketing Group on the Wordpress platform and optimized for search. The site allows The Patio to update the site from an easy to use Wordpress content management system. "We desired a fresh look complete with a functional Mobile App and the Idea Marketing team won us over!" said operations manager Maria Tagler.
The new design features large scale photos of food with descriptive text overlay. There is a unique "Send Gifts" section that allows customers to ship their famous ribs nationwide, complete with a custom message from the sender. Guests also have the option to order gift cards online. A third-party loyalty program was incorporated and is featured as a call-to-action on each page of the site. Visitors can sign up simply by following the link provided and are rewarded with a free side item. Ms. Tagler goes on to say, "The process was quick and simple, yet all inclusive, and the result surpassed our expectations!"
Check out the new The Patio Restaurant website.
Idea Marketing Group, located just west of Chicago, offers web design, web development, and marketing services to clients nationwide. With additional specialties in branding, graphic design and marketing services. Idea draws from experienced, in-house talent paired with unmatched customer service at award-winning levels. To learn more about this web launch, contact info(at)ideamktg(dot)com or call us at 312-834-7001.