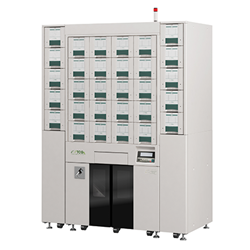 The true benefit of adherence, a healthy life for our patients, is Hayat's number one priority.
Powers Lake, Wisconsin (PRWEB) March 10, 2016
Hayat Pharmacies, headquartered in Milwaukee, WI, has partnered with TCGRx to become their first client, in the Milwaukee metro area, to implement the ATP 2; a revolutionary new automated tablet packaging system. While Hayat's Simplify My Meds® and Medication Therapy Management programs have enabled them to put more patients on synchronization programs, the new ATP 2 system will package the meds for them, in an easy to use format. The system offers Hayat some of the most sophisticated innovations in adherence technology available in the marketplace.
Hayat is in the initial phase of their implementation—loading medications into the ATP 2 and training their employees on its use. Once completed, they'll educate prescribers, patients and insurance companies on the benefits of the tablet packager with respect to adherence. The system's ability to generate a medication adherence package (AdherePac™) that is easy-to-open, easy-to-read, and that contains all of a patient's medications for a specific hour of administration, makes the ATP 2 an important piece of Hayat Pharmacy's commitment to improved patient outcomes.
As a local, community based pharmacy with seven locations in the greater Milwaukee metro area and one in Campbellsport, WI, Hayat promotes patient education and believes that by improving adherence, they can also improve their patients' health. According to Hashim Zaibak, CEO of Hayat Pharmacies, "We're confident that the partnership we've forged with TCGRx will help our patients significantly improve adherence to their medications. We view our investment in the ATP 2 system as a win for everyone—the patient, the pharmacist and the physician—because the true benefit of adherence, a healthy life for our patients, is Hayat's number one priority."
According to Duane Chudy, President/CEO of TCGRx, "The ATP 2 is designed to ensure every pill is dispensed correctly, while reducing pharmacy downtime and operating costs. At TCGRx, we pride ourselves on the sophistication of our technology, driven largely by the voice of our pharmacy clients. When it comes to adherence packaging, we feel we've anticipated their every need by providing a system that's both intelligent and scalable to the unique needs of their pharmacy operations."
About TCGRx
TCGRx is a leading supplier of pharmacy automation, offering scalable solutions that range from simple packaging technology to enterprise-wide perpetual inventory management. TCGRx solutions are specifically designed to make pharmacies and their processes more efficient. The company provides comprehensive work flow automation, including design and consultation services, to offer in-patient, out-patient and long-term care pharmacies a fully featured, integrated solution. With a strong presence in pharmacy markets throughout the U.S. and Canada, TCGRx is headquartered in Powers Lake, WI. For additional information, visit http://www.TCGRx.com, find us on Facebook, or contact us at 262.279.5307.
About Hayat Pharmacy
Hayat Pharmacy is an independently owned, community-based pharmacy headquartered in Milwaukee, Wisconsin. Founded in 2011 by Hashim Zaibak, Hayat currently operates seven locations in the greater Milwaukee metro area and one in Campbellsport, Wisconsin. Named after the Arabic word for life, Hayat is committed to helping their clients achieve a healthier life. With services that include medication therapy management, medication synchronization and free home delivery, Hayat's goal is healthy patient lives through accessible, affordable care and education. Please visit http://www.hayatrx.com for additional information.