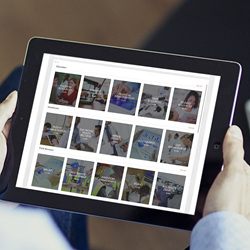 Lincoln, RI (PRWEB) March 04, 2015
Volute Technologies is reinventing custom software development. The Rhode Island based software company has developed a first-of-its-kind Web App Ecosystem offering enterprises custom applications that automatically adapt to every desktop, tablet and smartphone while dramatically reducing time-to-market and costs.
Out-of-the-box software products cause organizations to conform their business processes to fit the features and functions of those products. Customization is the only way to meet the unique needs of an organization, however custom software development can be a long and costly process. It is often difficult to integrate custom solutions with new systems down the road. Additionally, separate desktop and mobile versions must be built for each type of device and operating system (OS).
Volute's Web App Ecosystem provides a new way to develop software for modern business. The Web App Ecosystem is a community of interacting business functions built using new web app technology. These web apps plug into a virtual platform that can be integrated with any back end systems or custom created web services. Each web app is built independently, but is inherently designed to talk to other web apps for real-time collaboration between systems and users and to derive new data never before possible. The web apps are device independent, meaning they automatically adapt to any desktop, tablet or smartphone regardless of screen size or OS. The result is a centralized, fully mobile, single sign-on solution for all the tasks and functions an organization requires.
The Web App Ecosystem facilitates rapid development of web apps. Web apps are quickly laid out by selecting from a collection of pre-built structures and features that allow full customization and characteristics required by today's mobile, modern business world. These apps are customized by developers to alleviate the pain points organizations face.
All of an organization's web apps are organized in a private web app library allowing for centralized governance. Updates can be pushed to all Ecosystem users and new web apps can be added or removed at any time without impacting the rest of the Ecosystem. The library allows organizations to distribute tasks and functions to anyone, anywhere, on any device, making information sharing and collaboration possible from around the world.
Real-time collaboration can occur when users select web apps from the app library and add them to their own virtual workplace. A virtual workplace provides an environment for engaging with business tasks and functions independent of a user's location or device. Web apps can be arranged in a user's workplace however they choose, empowering them to enhance their personal productivity style. Web apps can also be shared with a simple click or touch with other users.
Volute's vision for the Web App Ecosystem is the creation of an interconnected network of web apps that improve the way software creates value for organizations. This vision is driven by Volute's innovative team of technologists and business professionals.
About Volute:
Volute Technologies is an innovative software company headquartered in Lincoln, Rhode Island, with a sales office in New York, NY. Michael D. Croft, Chairman & CEO at Volute Holdings Corporation, parent company to Volute Technologies, has over 16 years of professional experience architecting enterprise software used by world-renowned companies. In 2012, he earned the 40 Under Forty award citing 40 professionals under the age of 40 making an impact on a local or national scale. Michael has been featured in various publications and speaking engagements, sharing his expertise on software development and methodologies. For more information about Volute, visit http://www.Volute.co, call 888-316-6303, or email sales(at)volute(dot)co.