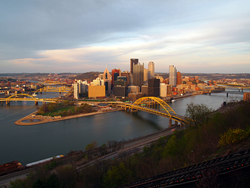 Philadelphia, PA (PRWEB) July 24, 2014
CRM manager is pleased to announce IT services veteran and Pittsburgh native Mark DeGurian has joined the company and will head up sales for the newly opened Pittsburgh office. Mr. DeGurian has over 15 years in the IT services sector, starting with Pittsburgh based Rapidigm in the late 1990's. After Rapidigm was acquired by Fujitsu America, Mr. DeGurian continued in various sales roles before joining SoftwareAG/IDS Scheer Consulting in 2012 where he was responsible for the company's Managed Support Services and Outsourcing offering. CRM manager looks forward to the experience that Mr. DeGurian will bring to the company and our new Pittsburgh location.
CRM manager is excited about the steady growth the Pittsburgh area has seen over the past several years and is actively making plans to expand its operations going forward. "Being a salesforce.com portfolio partner gives us the opportunity to do just that," said Mr. DeGurian. The Pittsburgh office with both Sales and Consulting Services is located in The BNY Mellon Building at 500 Grant Street.
The Salesforce platform is growing and gives companies of all sizes the opportunity to expand and run their businesses much more efficiently than ever before. CRM manager has the expertise to unlock that potential within organizations across all business sectors and business units. Whether companies are looking at a cloud strategy for the first time or are looking to realign an existing strategy with new or changing objectives, CRM manager and salesforce.com can help. Backed with the success of 1,000+ customer engagements ranging from new implementations to enhancements and added functionality, to training and support in the NYC and Philadelphia areas, Mr. DeGurian looks to bring the same success to the Pittsburgh area.
CRM manager is a salesforce.com portfolio company focused on helping companies implement and run their Salesforce platform more efficiently through Best Practices gained by hundreds of successful engagements since 2005 and a very close partnership with salesforce.com. Service Offerings include: Turnkey Project Management, Functional and Technical Consulting, and Managed Support Plans as well as other salesforce.com initiatives.
For more information on the new Pittsburgh location please visit crm-manager.net or call 412-515-1570.