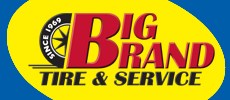 Big Brand Tire's 40 plus years of Tire experience is breathing new life into online tire sales and they are now the most trusted place to but tires online. To buy tires online from Big Brand Tire visit www.bigbrandtire.com
Thousand Oaks, California (PRWEB) August 09, 2013
The most important decisions a car owner can make are when to replace tires and which tires to purchase. With hundreds of brands and grades of tires on the market, making the right decisions for quality and costs can be confusing to say the least. Big Brand Tire & Service, the most trusted name in tires and auto service in California since 1969, has sold millions of tires over the years and is now offering their large selection of tires online. Big Brand Tires' entry into the online market is sure to make them the number one place to buy cheap tires online. Big Brand Tire & Service believes the best customer is an informed one who can make an educated decision when purchasing tires, and the entire company is focused on providing detailed information for the customer to take into consideration.
Today's tires are the longest lasting in the history of the industry, but the actual tread life can vary by the type of car, the aggressiveness of the driver, and the road and driving conditions the tires are consistently exposed to. The average car owner will have to replace tires a few times through the life of the vehicle, and there are a number of factors that should be taken into consideration.
The most obvious factor in deciding when it is time to replace tires is the tread life. Rotating tires regularly helps prolong their life by keeping them from wearing in the same places over long periods of time. Big Brand Tire & Service's 17 California centers recommend regular rotations, but they remind drivers that there are legal limitations to tire wear and rotation. The California Department of Transportation forbids a dealer from mounting any tire that has less than 1/32-inch of tread or less.
"For this reason, we are not able to rotate tires if the tread depth is at or below 1/32 inch in any two adjacent grooves at any location of the tire," a Big Brand Tire & Service spokesman explains.
One simple way to test tire tread is to place a quarter upside down in a tire groove. Since the distance from the coin's rim to George Washington's hairline is about 1/8 inch, if all of Washington's head in any one groove where a tread-wear indicator appears, the tire is becoming seriously worn and the driver should consider replacement.
The quarter test is, of course, just a general guideline. The driver should also consider weather conditions in the area. Consumer Reports recently made the following observations in a tire study "We have found in our tests that a tire with just 1/8-inch tread was notably worse in hydroplaning resistance and snow traction. By the time only 1/16 inch remains, wet-pavement cornering and braking drop off too. Based on our recent experience, when your tires have less than 1/8 inch of tread left, it's a good time to start shopping for replacement tires."
While price is always an important factor in the tire market where there are so many brands and models to consider, Big Brand Tire & Service reminds customers that safety should be the number one priority. The tire buyer should seek tires that have been shown to do well in testing for performance in braking, handling, and resistance to hydroplaning. Winter traction should also be a factor, especially in areas where the driver is likely to encounter wet driving conditions.
All things considered, projected tread wear, ride comfort, noise and rolling resistance are the tiebreakers when making final decisions. Also, according to Consumer Reports, a manufacturer's warranty does not always fully reflect how long a tire will last.
With hundreds of tire dealers and discount sellers in the market, Big Brand Tire & Service's 17 Southern California locations stand out for both their discount prices and unmatched customer service. The most trusted name in tires and auto service in the state is currently offering an instant savings $50 discount with the online purchase of four automobile tires at bigbrandtire.com. The $50 savings will be honored at any of the 17 Big Brand Tire & Service locations.
Big Brand is known for its low prices and big time service warranty, recognized throughout the state as the best protection for car tires, including purchases of Santa Barbara tires, Ventura tires, Thousand Oaks tires, Bakersfield tires, Atascadero tires, San Luis Obispo tires, Camarillo tires, and Tulare tires. Big Brand specializes in major brands such as Goodyear, Michelin, BF Goodrich, Fallen, Cooper, and GT, to name a few. It is the place to go for the finest quality at costs that beat what many centers and chain membership stores charge for cheap tires, with an everyday inventory of discount tires on stock at all times. Tire buyers will be impressed with Big Brand's wide range of options for high performance tires, off road tires, light truck tires. ATV tires and SUV tires. They also provide free alignment checks, free tire rotation, free inspections of repair needs, and free estimates.
In addition to accepting all major credit cards, Big Brands Tire & Service offers its own credit card that provides California discount tire and auto service customers the convenience and flexibility to buy now and pay later. The credit card application is available on line at bigbrandtire.com.
Information about store locations and hours, products and services offered, and hours of operation is available at Big Brand Tire & Service's web site or by calling (888) 779-8473 toll free.