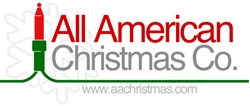 All American Christmas Company is now offering 10 percent discounts on all online orders over $40 at http://www.aachristmas.com.
Sparta, TN (PRWEB) August 16, 2013
All American Christmas Company is gearing up for its annual rush of residential and commercial customers who will soon be making preparations for the upcoming holiday seasons, and, as usual, they will be the leading supplier of Christmas lighting displays, as well as Halloween displays, lighting, and decorations.
Although the traditional fall and winter holidays may seem far away in the middle of summer, smart shoppers plan ahead for their Christmas lights and decoration plans and order early, while supplies are readily available. All American Christmas Company is rewarding shoppers who order online by offering 10 per cent discounts on orders of $40 or more at aachristmas.com, using the promotion code save10.
All American Christmas Company has virtually every type of Christmas lighting imaginable, particularly the most popular varieties of small Christmas lights, and LED Christmas lights. After 25 years in the industry, the lighting pros at All American Christmas Company have developed a well-deserved reputation as the leading source for types and sizes of Christmas lighting products such as C-7 and C-9 light bulbs, Christmas light strings, globe lights, and all other lighting products, including energy saving LED Christmas lights. All American Christmas Company's light products help create sparkling displays to fit all budgets and desired effects, from the individual home owner looking to have the biggest and brightest display on the block to businesses looking to create dazzling, memorable lighting displays. On top of offering the largest inventory and variety of lighting product options, All American Christmas Company also is known for its affordable prices and outstanding customer service and planning suggestions.
In addition to lights and replacement bulbs, All American Christmas Company is also the place to shop for brilliant lighted Christmas displays, icicle and curtain lights, commercial Christmas trees and decorations, fiberglass Christmas sculptures, nativity scenes, light clips and hangers, and electrical supplies.
With 25 years' experience in the Christmas lighting field, All American Christmas Company's team of experts gives all customers the opportunity to take advantage of their hands-on planning assistance. They can recommend the best solutions for any lighting project, including recommending the proper amount of lights needed to cover the desired surfaces.
All American Christmas Company can always be counted on to treat all orders with equal attention. They eagerly assist the individual homeowner or small business in selecting appropriate products, and they are also one of the premier suppliers and designers of commercial holiday light displays with thousands of organizations, businesses, and municipal groups among their clientele. All-America's lighting displays have been used to provide festive displays for Universal Studios Florida, the Reno-Hilton, Martha Stewart Living, Radisson Hotels, the Minneapolis Convention Center, Marriott Frenchman's Reef, Harvard University, Great American Restaurants, CBS This Morning, Brown University, Beverly Hills Restaurant, the Alabama Shakespeare Festival, and several military installations, to name just a small sample of their satisfied customers.
While All American Christmas Company's name implies lighting and displays for Christmas only, they also have an extensive line of holiday products for every major holiday, including The Fourth Of July, Halloween, Thanksgiving, and Memorial Day. All American is a favorite choice for special occasions such as weddings, private parties, proms and formal dances, corporate events, retail displays, and shopping center and business' special lighting effects.
Since they are involved in every level of the lighting business, All American's team of knowledgeable lighting pros recognizes that service is critical, and their pledge is to offer professional and personal assistance on every call, regardless of he size or scope of the order.
"We look at every order one at a time, we run all the orders by hand, and take the time to make sure you get exactly what you need," a company spokesman said. "Our customers aren't just names on paper; they have a plan, a project, and we want to make sure they get exactly what they need from start to finish. From a commercial Christmas light standpoint, we help our customers from the beginning of conceptions to production and to set up. We work with businesses, cities, schools, drive through parks and much more."
Complete descriptions of All American Christmas Company's products and services are presented online at aachristmas.com. Service representatives are always ready to answer questions, provide planning and designing advices, and help place orders by phone at (931) 836-1212. All American receives fax inquiries and orders at (931) 836-2002.