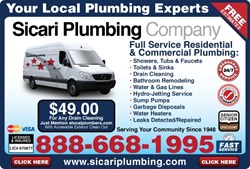 Sicari Plumbing is now offering flat rate plumbing service in Pasadena. Detailed information is available online at www.sicariplumbing.com.
Pasadena, CA (PRWEB) August 21, 2013
Sicari Plumbing is now offering flat rate plumbing services in Pasadena. Homeowners throughout the Los Angeles who are sick of being shocked when handed a final bill by unscrupulous plumbers are flocking to Sicari Plumbing to take advantage of their trustworthy flat rate service.
Unfortunately, most Pasadena plumbers don't set rates in advance and the cost of a simple procedure such as unclogging a drain can quickly sky rocket when the plumber is arbitrarily billing for everything short of him breathing. Those searching for a trustworthy Pasadena plumber need not search any farther than Sicari Plumbing. With Sicari's flat rate billing customers know in advance exactly how much a plumbing job will cost with absolutely no shock when it comes time to square up the final bill.
Sicari Plumbing can handle any Pasadena plumbing job in any sized home or commercial setting. Whether it's unclogging a garbage disposal or re-piping a whole apartment complex, Sicari Plumbing can handle the job quickly and safely at the most affordable prices anywhere.
Sicari Plumbing has worked long and hard to earn their reputation as the leading flat rate plumbers in Los Angeles. "Sicari Plumbing has not stood still in its 30 year history," says owner Joe Sicari. "We continually reinvest in ourselves, both in training and technological innovations that keep us in the forefront of the plumbing industry. Sicari Plumbing has become sewer and drain specialists with equipment like in-line cameras and locators, Hydro-jetters and more. You can actually see the problem within your pipe. The ability to pinpointing the exact location allows us to diagnose more effectively. Trench-Less technology allows us to replace your old sewer line, which eliminates all cracks, leaks, holes or roots that may be causing you trouble, without damaging driveways, landscapes, or sidewalks, saving you thousands of dollars in added repairs. Our Hydro-jetter allows us to clear stubborn grease stoppages with water pressures of over 3500psi, leaving your drains clear and trouble free for years to come."
Sicari Plumbing is currently offering discounted specials $49 for drain cleaning, $159 for a ½ HP garbage disposer, $150 off water heater installations, and 15 percent discount on any work over $200.
Those in need of the best Pasadena plumbers can contact Sicari Plumbing at (888) 66801995 or online at http://www.sicariplumbing.com/.