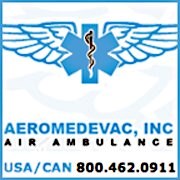 Aeromedevac is now providing international air ambulance and emergency medical flights to all points in Mexico. Details are available online at www.aeromedevac.com.
San Diego, CA (PRWEB) August 29, 2013
Aeromedevac is now offering air ambulance flights to all points in Mexico. Aeromedevac, an air ambulance service that offers medical flights, has committed their business to providing a high level of patient care throughout the world. From offering California air ambulances to medical flights in Mexico, Canada, and outside North America, Aeromedevac has been serving pediatric and adult patients for over twenty years.
Air ambulances are private aircrafts equipped with a stretcher, medical personnel, medication and medical equipment specific to the patient's needs. Aeromedevac can respond to emergency ambulance transport needs within the hour of request. Aeromedevac bases are staffed 24/7 with multilingual coordinators. Medical flight crews are composed of paramedics, registered nurses, and the option to include board certified emergency medicine physicians.
Aeromedevac is a founding member of the International Air Ambulance Alliance, an organization that upholds professional standards of fixed wing air ambulance providers. Additionally, Aeromedevac is EURAMI Certified, having received approval from aircraft operations and logistics, management policies, scope and ethics, and a variety of other standards. Team members at Aeromedevac are trained in flight physiology, including registered nurses, flight paramedics, and respiratory therapists.
For Case Managers, Aeromedevac assists with providing global inter-facility and EMS transportation of patients, contacts the patient's insurance company, offers bedside-to-bedside service internationally, communicates with family members, and arranges to be in contact with teams at the sending and receiving facilities. Additionally, flight coordinators are available to assist patients with insurance verification and benefits.
When needs include transporting an injured family member or moving someone into specialized care, Aeromedevac offers timely and efficient transportation to patients and family members. Flights are arranged to include bedside-to-bedside service for the comfort of patients.
Patients can receive cost information for air ambulances by accessing the "online quote" feature online. To find out more information about air ambulances or medical flights, visit Aeromedevac online at http://www.aeromedevac.com/ or call (800) 462-0911 for services within the United States and Canada. International contact numbers are available online.