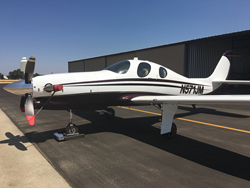 This case went very well, and we look forward to working with them in the future when they purchase another aircraft.
(PRWEB) September 14, 2016
Sacramento, CA: AERO&MARINE Tax Professionals, (http://aeromarinetaxpros.com/), an aircraft tax specialist firm, recently assisted James Henson, owner of Henson Construction, in supporting a claim for a use tax exemption on the purchase of a Lancair Jet saving them approximately $150,000.00 in aircraft tax.
When asked why he bought the jet James had this to say: "I own a construction company and review work all over the western United States such as, high density multi-family for sale/for rent and single family homes. I bought the airplane because I had work going in multiple states. I needed to be able to fly to those locations in a quick, timely manner and the biggest thing is a lot of the work was done in areas where major airports didn't exist.
'Aero&Marine was recommended to me by my flight instructor and he said really good things about them. We've done this twice and both times it's been exactly the same. Aero&Marine is both very efficient and very organized and they told me exactly what needed to be done tablework wise. Every month we'd get together on the phone and email during the course of the month to update our records and verify that we're on the right track. I'd absolutely recommend them to others."
Tom Alston, founder and CEO of Aero & Marine Tax Professionals stated: "We were pleased to assist with the outcome for this client. This case went very well, and we look forward to working with them in the future when they purchase another aircraft."
Aero & Marine Tax Professionals shows purchasers how to avoid aircraft tax and vessel tax in California and to make certain the full value of their next aircraft, vehicle, or vessel goes into their pocket— not the government's. They have successfully filed hundreds of tax returns with the State Board of Equalization. Mr. Alston has also published many articles on sales and use tax. His blog can be seen at http://www.aeromarinetaxpros.com/aero/articles
Thomas A. Alston
President and CEO
AERO&MARINE TAX PROFESSIONALS
8758 Freesia Drive
Elk Grove, CA 95624
916-691-9192 ext 108
916-691-9185 Fax
http://www.aeromarinetaxpros.com
http://www.aeromarinetaxpros.com/aero/articles
https://www.linkedin.com/in/thomasaalston