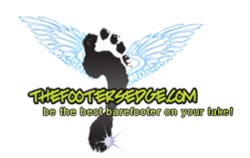 The Footer's Edge makes learning to water ski easy with the Barefoot Boom and complimentary online video instruction at www.thefootersedge.com.
Winter Haven, FL (PRWEB) September 03, 2013
For the water sports lover, the lakes of the world can be a source of triumph or trepidation. Without proper training and equipment, fun and safety can be a tossup, depending on weather, surf conditions, and luck. But Footer's Edge fans know a better way: they know that barefoot waterskiing isn't about luck, its tools and training. W ith the Barefoot Boom anyone can quickly learn how to water-ski.
Training is easy: The Footer's Edge is now offering a variety of free instructional videos and eBooks to teach the newest newbie or slickest pro a few things about getting the results they want when barefoot waterskiing (or wakeboarding, or slaloming, or driving a boat).
That training is combined with innovative equipment. The adjustable Fat Sac ballast uses lake water to give weight to the back of any boat. The tsunami water pump means boats will fill in minutes, and when boating time is over, the water is safely returned to the lake. This gives boats weight (which means bigger waves) without having to tow heavy dead weight on the highway or keep it on the lake all year long.
The Fat Sac may be innovative, but doesn't it seem grandiose for Lane "Dawg" Bowers to promise miracles? Customers like Mitt Romney and Tony Robbins would disagree. So would LaRae Wilson-Madden, a satisfied customer who used Footer's free training videos and e-books. LaRae had this to say:
"Lane, thanks for one of the best outings I can remember in a long time last Tuesday. Your teaching methods and your respect for doing it the safe way…safety is my number one value. I will be looking to purchase a boom for my boat this year and will be coming to see you for this purchase."
Her results were commonplace. Fan testimonials (from the group's Facebook page, e-book, videos and website) agree that The Footer's Edge is the place for family fun. A quick glance at the website shows the dedication to safety for folks of all sizes: 365 pound Phil Pfister, the 2006 world's strongest man, is shown enjoying blasting the waves with Lane. The products are designed for anyone from eight years old to 400 pounds.
All that's left is the weather. That part is up to customers.
The Footer's Edge can be reached at http://www.thefootersedge.com 24/7, by phone at 1-877-685-6270 x8 or direct 1-863-268-0111. Operators are standing by.