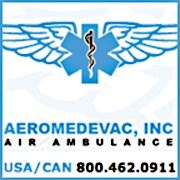 Aeromedevac Air Ambulance Service Now Providing Medical Flights to Locations Across the Globe
San Diego, CA (PRWEB) January 23, 2014
There's no place like home, there's no place like home… Dorothy was really on to something. There truly is no place like home, especially when you're sick or injured, and never more than when you're sick or injured in a foreign country. However, until the tech wizards of the world invent a working pair of Ruby slippers, the fastest safest way to get a sick or injured person back home is an air ambulance flight by Aeromedevac. And unlike those Ruby slippers that could only reach Kansas, Aeromedevac can now provide expert air ambulance service to any location in the world.
Aeromedevac provides first class bed-to-bed services for patients who are injured or ill and need to be transported to their home areas or to US medical facilities for treatment quickly and safely. Aeromedevac has extended its flights throughout Mexico to provide peace of mind and speedy, professional transportation back to the United States in critical situations when lives are on the line.
Aeromedevac's more than two decades of providing medical flights throughout the US and internationally has established a stellar reputation as one of the leading evacuation services in the world. The service provides medical transportation for ill or injured individuals, family members, managed care companies, hospitals, military, and governmental embassies and agencies with its fleet of fixed wing flying ambulances. The San Diego based operation arranges ground transportation and delivers highly specialized care and necessary incidentals for successful transportation. Each plane is equipped similarly to an intensive care unit/emergency room, allowing specialized crews of registered nurses and critical care paramedics or other medical personnel to facilitate care for patients in need of urgent treatment, including organ transplants, cancer treatments, specialized surgery, burn care, advanced head trauma and spinal injuries, and other serious conditions that require expedited medial air ambulance transportation.
Full details of Aeromedevac's services can be obtained on line at http://www.aeromedevac.com or by calling 619. 284.7910 or 800.462.0911 in the US or Canada, 1.619.284.7910 outside of North America, and 001.800.832.5087 in Mexico.