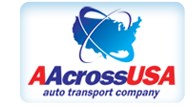 AAcrossUSA car shipping is quickly growing in popularity and outshining other auto transport companies.
Los Angeles, CA (PRWEB) January 28, 2014
AAcrossUSA, a leading provider of cross state and cross country vehicle shipping, has seen a steady growth of business in recent months. The company is on pace to beat previous year numbers and hopes to continue providing vehicle transport services nationwide for years to come. AAcrossUSA specializes in auto transport services and utilizes their network of carriers to find customers the best price possible for shipments.
AAcrossUSA has been offering high quality secure vehicle transport for many years and recently saw a rise in business. Many individuals across the nation are discovering the option to ship a vehicle rather than driving to a new location. Customers include those taking a long distance vacation as well as those who are moving a long distance but wish to fly instead of drive. This has increasingly become a popular option above renting or buying a new car upon arrival.
AAcrossUSA has been known for their quality customer service and attention to detail. There are many auto transportation companies discovering the high demand for vehicle shipping, but few others have been able to offer the best combination of price and service. Many other companies charge more and do not stay in contact as well with the customer as AAcrossUSA.
AAcrossUSA aims for quality customer service above all else, not just good phone service but also the vehicle shipping itself. The organization is fully insured and works only with proven transportation companies and only with quality trucks and rigs. Customers are essentially guaranteed that their vehicle will arrived undamaged, or the company will take care of all required repairs. Few other auto transportation companies offer this level of guarantee to their customers.
AAcrossUSA is very proud of their service options and pricing. The company's recent success has shown that they are doing things right. Many customers are reporting positive experiences everywhere around the web, as well as providing positive testimonials for the company web site. The company intends to keep offering the same level of customer service and is certain they will receive continued positive feedback.
To learn more about AAcrossUSA and their vehicle transportation service options and pricing, visit the company website at http://www.aacrossusa.com.