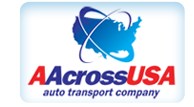 A Across USA is now offering auto shipping to all 50 states including Hawaii.
San Francisco, CA (PRWEB) January 29, 2014
Thinking about vehicle transportation can be one of the most stress inducing parts of any move. Many people worry that they will not be able to find a company that they can trust or who is reliable – and that their car won't arrive in time. Fortunately, consumers can rest easy with A Across USA. A Across USA is one of the most trusted names in car shipping. With unmatched customer satisfaction, experience, and reliability, the team is second to none. The dedicated staff is able to take the stress and anxiety away from auto transportation. If a person is traveling across the United States or just a few thousand miles, A Across the USA guarantees that each individual consumers car will arrive in perfect condition and on time. The company can handle a one-time move as well as moving fleets of cars on an interstate or state-to-state basis. The team offers car hauling and car carrier services to move vehicles across the country at competitive and affordable prices. A Across the USA is now providing auto shipping services to all 50 states including Hawaii.
A Across USA has been meeting vehicle transporting requirements for families, companies, the US Military, motor vehicle dealers, moving companies, leasing companies and government agencies for years. The company also works with more than 1,000 pre-checked and pre-screened vehicle carriers in every station. This is just one more reason they are the most dependable team in the industry. "The driver was very careful taking the vehicle off the truck and was very courteous," said K. Klein an A Across USA consumer in New Jersey. "Everything went according to plan and nothing but high praises for your services. Thank you so much! If anyone ever asks me about the transaction. I will definitely be recommending your company to them." The company has years of expertise and satisfied customers, like Mr. Klein proving that they can handle anything that comes their way effectively and efficiently.
The Family owned and operated company has created an environment that is dependable and affordable. Working with the dedicated, friendly, and committed staff at A Across the USA takes worry and anxiety out of auto transportation. Log on to http://www.aacrossusa.com today to learn more about just how easy it is to transport any vehicle this year!