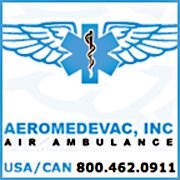 California Air Ambulance 'Aeromedevac' now offering medical flights and air ambulance service.
San Diego, California (PRWEB) January 09, 2014
Aeromedevac is now offering domestic and international air ambulance services for critical and non-critical patients. Aeromedevac is proud to announce that they can now provide air ambulance services to any location in the world. Visit aeromedevac.com to request a quote and read more about the company's services.
Aeromedevac offers medical flights in its own air ambulance for patients who need to be transported. The air ambulance has a specially fitted stretcher that is secured to the cabin floor just as passenger seats are secured. The stretcher has a mattress, bed linens, pillows, blankets, and safety restraints. The base of the stretcher holds 7000 liters of oxygen, a vacuum for suction, an air compressor that blends the air with the oxygen in the ventilator, and an electrical inverter for supplying power. All medical electronics on the air ambulance have internal batteries that act as backups. The flight team is full of medical professionals who are registered nurses, physicians, paramedics, and respiratory therapists. The California air ambulance has a cardiac monitor, pacing, and defibrillator, oxygen with monitoring, a ventilator for complete breathing supports, a comprehensive pharmacy, orthopedic and spinal devices for stabilizing and maintaining trauma victims, specialty supplies and equipment for a variety of medical and trauma needs, and radio and cellular communications around the world.
Aeromedevac has two air ambulances: the Lear 35 jet and the King Air 100. The Lear 35 has room for an accompanying passenger and the King Air 100 has room for two accompanying passengers, depending on fuel demands, distance, and weather. The Lear 35 jet can go non-stop for 2000 statute miles or the equivalent of about four and a half hours. After this distance, the air ambulance would have to stop for fuel, but this is enough fuel to make most medical flights within the United States, from the US to Canada, and from Mexico to the US and Canada non-stop flights. The Lear 35 travels at over 500 miles an hour. The King Air 100 can fly 1500 statute miles or about 5 hours non-stop. The King Air travels at 250 miles an hour.
Customers can visit http://www.aeromedevac.com to request an all-inclusive quote for the air ambulance service or for general inquiries. Customers is the USA and Canada can call 800-462-0911. Customers in Mexico can call 001-800-832-5087. Customers outside North America can call +1-619-284-7910. Customers can also request a flight via email by emailing flightrequest(at)aeromedevac(dot)com.