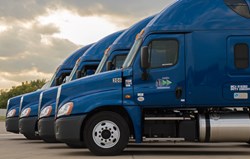 It was a risk to launch the truck fleet...we have already realized how valuable it is.
Grapevine, TX (PRWEB) November 06, 2013
In July, they announced their North American truck fleet; today, 1 Trade Logistics of Grapevine, TX (DFW Metro) announced that they have been named the 4th fastest-growing Hispanic-owned company in the USA (HispanicBusiness.com).
The 3rd Party Logistics (3PL) sector has, in general, had success in the past 5 years outperforming sluggish US GDP growth 11.6% to 2.9%. Total 3PL revenue in the US has grown from $127B in 2008 to $141.8B in 2012 (Armstrong & Associates, 2012). Most of that growth comes between 2010 and 2011, when the US bounced back and companies turned to outsourcing to meet new, sudden demand.
Yet, clearly there is no better ROI than starting a successful small business in Texas. 1 Trade Logistics has achieved a 5-year growth rate of 1614%, growing from $350,000 in 2008 to $6M in annual revenue for 2012, outperforming their sector by 1602%.
Co-Founder and President Sol Arango explains that broad pessimism about the US economy or government dysfunction is no reason to slow you down. "To watch the news lately, you'd think that the entire economy (and government, of course) had grinded to a halt," she said. "You really can't let that stuff affect your business mentality. There is so much opportunity here; you have to continue take risks, work hard, and fight for year-over-year growth - no matter what anyone says the odds are."
1 Trade Logistics acquired a North American truck fleet this summer, technically moving it out of the 3PL sector and into asset-based logistics. "It was a risk to launch the truck fleet," Juan Arango, Co-Founder and VP of Operations explained. "In just a few short months we have already realized how valuable it is. We can give even better rates and service to our clients now and we feel like we're in more control of our destiny. We also get a big kick out of seeing our trucks on the road - we have rolling billboards all over the highway. It's a lot of fun."
1 Trade continues to provide 3PL services for Air, Rail, and Ocean transport. "We're obviously still focused on the 3PL side with our team of experts and that remains the largest part of our business," Kenneth Andrade, Operations Manager, remarked. "The excitement about the truck fleet doesn't change the fact that our staff is still the star of the show. We have the relationships and know-how to find the best deals and shipping solutions for our customers all over the world, whether you're using our trucks domestically or shipping from Australia to Frankfurt on a wide body."
Juan Arango says that 1 Trade is continuing to "make it happen" as their growth trend has continued in 2013. He attributes their success to the acquisition of their truck fleet, their knowledgeable employees, organic growth from a loyal client base, and the continued expansion of their import-export business - especially to and from Europe.
About 1 Trade Logistics
1 Trade Logistics is a premier, full-service transportation and logistics company based in Dallas / Fort Worth, TX that provides expedited freight forwarding, logistics management, supply chain solutions, and an international courier service. 1 Trade Logistics is a member of the World Cargo Alliance (WCA), carries a Minority/Women Business Enterprise (M/WBE) and TSA Certification, and is fully licensed through the FMC, IATA, and NVOCC to name a few. 1 Trade Logistics was launched in July of 2005 and is a US Top 500 US Hispanic Business. Learn more about their transportation and logistics services in Dallas / Fort Worth at 1tradelogistics.com.