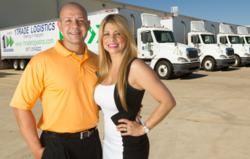 We realized the only way to make sure our clients get quality service 100% of the time was to manage assets as well.
Dallas, TX (PRWEB) July 02, 2013
Today, at an event in Dallas/Fort-Worth, 1 Trade Logistics debuted a fleet of 18-wheeler semi-trucks, tail-lift trucks, and cargo vans. The fleet will service the Continental US from its headquarters near DFW International airport. Employees were on hand to witness the unveiling of signage on the new trucks and celebrate a major milestone in the company's growth. Industry analysts consider the acquisition of the truck fleet to be a bold shift of 1 Trade's existing brand, though the family-owned logistics company will continue to provide air, rail, sea, and international shipping as a 3PL company.
Co-Founder and Vice President Juan Arango says that providing quality service to their clients was the chief reason they invested in the new fleet. "We realized the only way to make sure our clients get quality service 100% of the time was for us to be in control of not only sales and service, but to manage assets as well. This is about being able to control the '1 Trade Logistics Experience' from end-to-end."
Co-Founder and President Sol Arango was all smiles at the celebration, which emphasized the employees' contribution to their success. "We have the best employees in the world and they have made this possible. Now with the new fleet, we get to add drivers, mechanics, forklift operators, loaders...this is a great day for the 1 Trade Family."
After seven years of operation, 1 Trade Logistics is continuing to "make it happen" as they celebrate their transition to asset-based logistics. Sol is involved with client and public relations as President of 1 Trade Logistics. Juan actively manages day-to-day operations as Vice-President of Operations.
About 1 Trade Logistics
1 Trade Logistics is a premier, full-service transportation and logistics company based in Dallas / Fort Worth, TX that provides expedited freight quotes, logistics management, supply chain solutions, and an international courier service. 1 Trade Logistics is a member of the World Cargo Alliance (WCA), carries a Minority/Women Business Enterprise and TSA Certification, and is fully licensed through the FMC, IATA, and NVOCC to name a few. 1 Trade Logistics was launched in July of 2005 and is a US Top 500 US Hispanic Business. Learn more about their transportation and logistics services in Dallas/Fort Worth at 1tradelogistics.com.