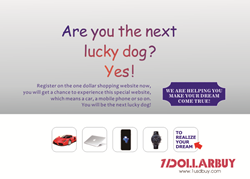 1 USD Buy Launched One Dollar Laptop Along with Many Other Low-Cost Products
(PRWEB) January 28, 2017
1 USD Buy, a leading ecommerce store that sells everything from gold bars to consumer electronics, recently brought an exciting opportunity for their buyers to buy high-end products at lowest prices. One Dollar Shopping, a new online shopping mode which has been introduced by the ecommerce store owners, is meant for buyers who are on a budget and always on a lookout for exciting prizes like a one dollar laptop and a free laptop online.
Buyers on the ecommerce store can now sign up on the website and enter the membership area to win one dollar mobile phone and other products available on the e-store. Products purchased are delivered to the doorstep of lucky buyers. After the sale comes to an end, the owners inform their customers through text, email and a notification through the membership center as well. Buyers need to update their personal information and wait for a callback from the ecommerce store.
1 USD Buy offers authentic electronic products such as Apple laptops and smartphone products, and buyers are also covered by the nationwide warranty and guarantee from the manufacturer. The ecommerce store also encourages its buyers to share the order as the buyers can earn extra reward points by sharing the order. However, unless a one dollar car or any other product purchased is defective, buyers cannot exchange products once purchased.
Keeo, the CEO of 1 USD Buy, recently appeared in a press conference and said that their ecommerce brand is determined to make the idea of one dollar shopping popular as it almost turns shopping into a festival in which everybody can take part.
"For just one dollar, buyers can get the best products in different categories. We maintain full transparency and buyers can see the names of the winners and contact the users personally to verify whether they really won the products. We are trying to add more excitement to online shopping", Keeo said.
About the Company
1 USD Buy or One Dollar Shopping is a top ecommerce store that offers maximum rewards to buyers.
To know more, visit http://www.1usdbuy.com/