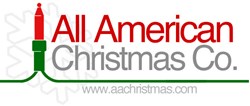 LED Christmas Lights come in a wide variety of colors and can suit any unique family need. ... www.aachristmas.com is now offering LED Christmas Lights online.
Sparta, TN (PRWEB) October 15, 2013
Christmas lights for the home have been a family tradition for generations. For some people, it is a symbol of the starry sky in the story of Christmas, the night Jesus was born; others feel that it is the perfect activity to bring a family together. Setting up Christmas lights to decorate the inside or outside of the home, is just one of the wonderful holiday activities that the whole family can do together during the season. Christmas is the perfect time to shine a spotlight on any home to bring the Christmas spirit alive in any neighborhood across the United States.
In recent years, LED Christmas Lights have become incredibly popular. And now, to keep up with the high demands, aachristmas.com is offering their entire selection of LED Christmas lights online. LED Christmas Lights reduce energy by as much as 90%, which can save families hundreds of dollars on lighting bills. LED lights have an approximate bulb life of 80,000 hours, which means the lights can last for nearly a decade. Additionally, most LED light bulbs are made of plastic, to ensure that they won't break when installed or displayed. They are also the premier option for safety since they do not generate heat. LED Christmas Lights come in a wide variety of colors and can suit any unique family need.
There are a wide variety of styles to choose from when deciding on the perfect Christmas Lights. Many people choose the C7 LED Lights, which are a classic Christmas light bulb. There are also retro options, the M5, C7, and C9 styles, which give any home a classic Christmas look. Now is the best time to start researching all of the different styles and types of lighting options, for the Christmas season. When searching online, many will be sure to find inspiration from the endless variety of LED lights on the market. Once a family finds the perfect Christmas lights, everything else about the season will begin to fall into place. Illuminating the hearts of many, Christmas lights are the quickest way to bring holiday joy to any community.
For more information on Christmas lights, log on to: http://www.aachristmas.com