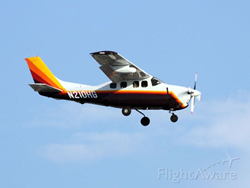 The process was very smooth and very helpful because obviously we nor my CPA are familiar with this type of transaction, and so we knew there were tax implications and we wanted them to go smoothly without any complications down the road."
Sacramento, CA (PRWEB) October 17, 2016
AERO&MARINE TAX PROFESSIONALS are specialists in handling California aircraft sales and use tax transactions. They recently assisted XP Skyhawk, LLC in supporting a claim for a use tax exemption on the purchase of a Cessna P210N, saving them approximately $17,500.00 in aircraft tax.
Russel Jones, a representative for XP Skyhawk, LLC stated: "We are in the freight boarding and custom house brokerage business, and we have offices on the California, Arizona, and Texas border. The reason that we needed an airplane was because all along the Mexico border the communities are relatively small, and so you don't have the access to commercial air services. Several of us have our pilot's license and we have a corporate pilot when necessary in order to move key personnel or IT people to different offices so they can take care of operations without having to drive long distances or having to fly commercial and then rent a vehicle to get to those offices.
"AERO&MARINE was recommended to us by a partner on the aircraft. We worked with AERO&MARINE on acquiring the aircraft and getting the documents as we positioned the aircraft and used it on the state borders. The process was very smooth and very helpful because obviously we nor my CPA are familiar with this type of transaction, and so we knew there were tax implications and we wanted them to go smoothly without any complications down the road. We would certainly recommend AERO&MARINE to others without hesitation."
Tom Alston, founder and CEO of AERO&MARINE Tax Professionals stated: "We have worked with them in the past and we're very happy with the outcome for this client. This case went smoothly, and we look forward to working with them in the future when they purchase another aircraft."
AERO&MARINE TAX PROFESSIONALS shows purchasers how to avoid California aircraft or vessel sales and use tax, and to make certain the full value of their next aircraft, vehicle, or vessel goes into their pocket—not the government's. They have successfully filed hundreds of tax returns with the California State Board of Equalization. Mr. Alston has also published many articles on sales and use tax.
Thomas A. Alston
President and CEO
AERO&MARINE TAX PROFESSIONALS
8758 Freesia Drive
Elk Grove, CA 95624
916-691-9192 ext 108
916-691-9185 Fax
http://www.aeromarinetaxpros.com
http://www.aeromarinetaxpros.com/aero/articles
https://www.linkedin.com/in/thomasaalston
https://plus.google.com/u/0/116669785114469409465