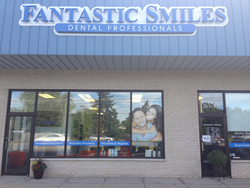 We needed more space and used the move to completely re-do and modernize the office
Mount Prospect, IL (PRWEB) October 13, 2016
Dr. Ewa Koser's Fantastic Smiles Ltd. of Mount Prospect, IL has moved and is now in the new offices. The new Fantastic Smiles facilities is at 301 East Rand Road in Mount Prospect. The phone number hasn't changed, dial 847-577-5464 for an appointment.
New Address:
Fantastic Smiles Ltd.
301 East Rand Road
Mount Prospect, IL 60056
847-577-5464
Old Address:
250 W. Kensington Rd Suite. 2 A
Mt. Prospect, IL 60056
The New office is in a larger space and conveniently located.
Dr. Ewa Koser said "We needed more space and used the move to completely re-do and modernize the office."
All are invited to the Oct 14th Open House 3-6pm.
ABOUT DR. EWA KOSER'S FANTASTIC SMILES LTD Dr. Ewa Koser is a recipient of the top Dentist in America Award for 2009 and named to Chicago's top doctors and dentists for 2010. Fantastic Smiles Ltd. is a full service dental office offering implants, crowns and bridges, dentures, root canals, oral cancer screenings, periodontal treatments, invisalign, veneers, teeth whitening and more. A specialty at Fantastic Smiles Ltd is dental implants. Dental implants restore the beauty of your natural smile and enable you to enjoy all the foods you love. Call for a consultation 847-577-5464.
Fantastic Smiles Ltd.
301 East Rand Road
Mount Prospect, IL 60056
847-577-5464
http://www.fantasticsmilesltd.com
info(at)fantasticsmilesltd(dot)com
https://www.facebook.com/fantasticsmilesltd/
https://twitter.com/koserdds
https://www.linkedin.com/in/ewa-koser-4276b861
https://plus.google.com/100459636525458616598/about
Office Hours
Monday 10 00 am-5 00 pm
Tuesday 10 00 am-7 30 pm
Thursday 10 00 am-7 30 pm
Friday 9 00 am-4 00 pm
Saturday 8 00 am-3 00 pm
Fantastic Smiles Introduction Video
https://youtu.be/GzoW5-F3iMA