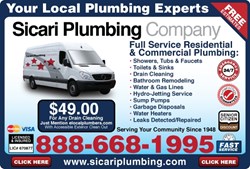 Sicari Plumbing is now offering flat rate plumbing services throughout the Los Angeles area. More information is available online at www.sicariplumbing.com.
Pasadena, CA (PRWEB) October 29, 2013
Leading Pasadena plumbers, Sicari Plumbing, are now offering flat rate plumbing services with no surprise charges throughout the entire Los Angeles area. Sicari Plumbing is an affordable and reliable plumber in Pasadena and servicing homes and businesses in the surrounding areas. With an encyclopedia's worth of service options available, customers will be pleased with their choice to pick a company that has been in business for more than 35 years.
For a plumber in North Hollywood, customers should call the team from Sicari Plumbing. The company has an expansive coverage area and customers who are unsure if the plumbers work in their area are invited to call for clarification. Despite company growth since its inception, Sicari Plumbing prides itself on being a locally owned and operated Pasadena plumber. Customer satisfaction is given and guaranteed no matter the size of the job.
Plumbers employed through Sicari Plumbing undergo extensive training before being hired and also undergo background checks. The plumbers are the leading experts in the field and have the certifications to back up the claim. They are familiar with a large range of appliance types and water heaters. Besides basic repairs, such as water heater installation and pipe repairs, the plumbers can take on design jobs to help aid in the complete renovation of bathrooms and kitchens inside the home.
Sicari Plumbing has a professional team who know to put the customer first. Quotes are given per job and not as an hourly rate. Each technician is professionally attired in uniform and will arrive at jobs in uniformed trucks. Plumbers are licensed, bonded and insured—a must in the business.
As an award-winning business through Angie's List and an A+ rating through the Better Business Bureau, the company is always looking for customer feedback. They invite consumers to connect on social networks including YouTube, Twitter and Facebook. Following the company can also permit customers to find money-saving offers. Online coupons are available for first-time customers, drain cleanings and water heater jobs.
Customer service representatives are available to assist clients anytime of day. Emergency personnel can also be dispatched on residential and commercial calls. Service calls can be made online or by calling 1-888-668-1995. The company website can be found at http://www.sicariplumbing.com.