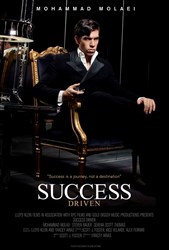 Lloyd Klein is "Success Driven" Through The Collaboration of Film and Fashion
Los Angeles, CA (PRWEB) October 23, 2013
"Success Driven", is a powerful short film that is on the fast-track to full-length feature film transition. The original concept, a brainchild of celebrity fashion designer Lloyd Klein and emerging recording artist Mohammad Molaei, nom d'arte Mohammad, was developed into screenplay form by director Scott J. Foster. Yancey Arias of NYC Films helms as director, with Klein, Gold Digger Music Productions, Arias and Foster producing. The film, starring Mohammad, is a breathtaking saga of a Middle Eastern singer who lands in America to become the most sought after musical talent in the world. The elegant cast includes Hollywood stars Steven Bauer (Scarface, Traffic) and Serena Scott Thomas (The World Is Not Enough).
The film's recent October 13th, 2013 win for Best Audience at the 6th Annual Bel-Air Film Festival is newest on a growing list of accolades. Its previous awards include the Best Soundtrack win at the Action on Film International Film Festival 9 and nomination for the same category at the Idyllwild film Festival; the prestigious Merit Award at the Los Angeles Cinema Festival of Hollywood and an Honorable Mention at the Sunset Film Festival Los Angeles.
Collaboration among artists has replaced competition as the buzzword that frames most of Klein's conversations and new enterprises including this project .
"Creativity thrives in the framework of Collaboration and Competition is its natural enemy". - Lloyd Klein on what fuels his artistic endeavors.
For the film's star, Mohammad, the project is the commanding debut of a career that he has prepared for his entire life. His intense training as a musician, actor, vocalist and now award winning song writer, together with his real life personal experience as a political émigré from Iran to Los Angeles, aligns with his creative ambition.
For Executive Producer and fashion mogul Lloyd Klein, who moved his fashion house from Paris to LA in 2000, participation in the production was a next step in integrating creative ideas that underscore his fashion acumen with storytelling on film. His well-known fashion influence on Hollywood's recognizable faces has been significant particularly on the red carpet where his clientele and muses consist of the a-list celebrities that range from icon to ingénue.
Lloyd Klein Films© is created to support, develop and activate innovative projects in the motion picture medium that carry the intention of elevating the human spirit through powerful scripting, stimulating visuals and exquisite sound that aims to elevate the human experience for its audience through memorable storytelling.
Contact: John Arguelles
john(at)lloydklein(dot)com
tel 323-549-9999
External links:
Lloyd Klein Facebook
Lloyd Klein Muse
Success Driven