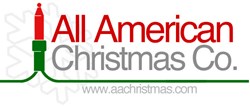 LED Christmas lights now available online from AA Christmas Company at www.aachristmas.com.
Sparta, TN (PRWEB) October 30, 2013
Seasons' greetings are beginning to spread across the country. The winter months remind every person that the most important thing in life is family. Nothing can bring together a family more than the feeling of the impending arrival of Christmas. LED Christmas lights bring back the nostalgia and heritage of the Christmas season. As families begin to prepare for the Christmas season, they start to think of the best way to light their homes and illuminate their neighborhoods with the joy of Christmas. Today, an increasingly popular option to light a home is with LED Christmas Lights. AA Christmas Company is now offering a giant selection of LED Christmas lights online at unbeatable prices.
LED bulbs statistically use 80% less power compared to many incandescent lights. This saves any family using LED Christmas Lights money during the important season. LED Christmas lights can last up to 80,000 hours and are made of plastic to ensure that they will not break when installed or displayed. These lights are the superior option for safety because they do not generate heat. LED Christmas lights are also available in a wide variety of colors, for any preference.
A wide variety of LED Christmas Lights are now available with the highest quality lighting packages. Now more than ever, families have the opportunity to turn their house into the quintessential Christmas home. Some of the most popular styles on the market include the C7 LED lights. These are classic Christmas light bulbs that provide an aesthetically pleasing quality along with low electricity. There is no reason to expect electricity bills to skyrocket with these energy efficient bulbs.
Variety, sparkle, and the utmost attention to detail are available to consumers searching for LED Christmas Lights. AA Christmas is the leading provider of online Christmas lights. Offering premium Christmas lighting products, their long list of satisfied customers is endless. Christmas Lights for the home are a fun, family friendly, and exciting holiday DIY project. The first night a family lights up their home, the whole community knows: Christmas has arrived.
For more information on purchasing LED Christmas lights, log on to: http://www.aachristmas.com.