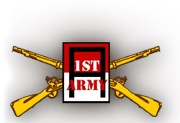 First Army Supply is now offering an expanded selection of army surplus supplies at discounted sale prices. More information is available online at www.1starmy.com
Lombard, IL (PRWEB) October 31, 2013
First Army Supply, a major online military supply store, has announced new sale items from their collection of high quality army surplus supply products. The company has a long history of providing high quality, military grade clothing and products to the public. First Army Supply operates both an online web store as well as a physical location in Lombard, Illinois.
First Army Supply is now offering high discounts on fleece hoodies, uniform shirts, caps, parkas and ponchos to name a few of the available products. Non clothing items are also available, such as pocket knives, canteens, engineer bags and more. Some of the military grade gear, such as Infrared (IR) patches, will require government ID for purchase.
First Army Supply has always been a customer centric organization. The company works with customers and clients around the world and has a long history of consumer satisfaction. The company has grown greatly in popularity over the years and serves the public proudly with the widest variety of army surplus supplies available in the Illinois area, and possibly the United States.
First Army Supply has a long history of serving the needs of the public who wish to have military level products, clothing and army supplies. The army surplus store first opened in 1982. The company's first location was in Northlake Illinois and quickly grew in popularity. Two years later, First Army Supply moved to a larger store front for expansion purposes. Today, the company services not only the public through their store front and online web store, but also provides army surplus supplies to SWAT teams, EMT groups and others throughout the world. The company is also registered with the department of defense as a certified supplier and services many military bases as well.
To learn more about First Army Supply, the company's rich history or to purchase one of their many sale items, visit the company's online web store at http://www.1starmy.com.