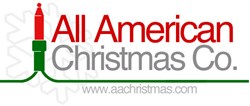 Get a head start on Christmas by taking advantage of All American Christmas Company's giant selection of Christmas lights that are now available online.
Sparta, TN (PRWEB) October 04, 2013
As the seasons start to change and the air becomes cooler, it is an exciting reminder that Christmas is right around the corner. Right now is the best time to get a head start on planning for all of the special details that make the Christmas season extra special. Each year, families nationwide brighten their homes and neighborhoods with beautiful lighting displays. Working together as a family, each display has the power to illuminate entire communities with Christmas cheer.
When searching for DIY Christmas Lights for the inside or outside of the home, the options are endless. An increasingly popular option for many American families is LED Christmas Lights. LED bulbs use 80% less power compared to many incandescent lights. These lights can last up to 80,000 hours. Most LED bulbs are made of plastic to ensure that they will not break when installed or displayed. They are also the premier option for safety since they do not generate heat. Whether a family prefers all white lights on the exterior of their home or multicolored lights for the banister inside, LED Christmas Lights are available in a wide variety of colors.
Depending on preference, there are many different styles to choose when deciding on the perfect Christmas lights. Popular styles include the C7 LED Lights, which are a classic Christmas light bulb that looks great and saves power. The M5, C7, and C9 style are retro options, which give any home a classic Christmas feeling. Researching all the different styles is important for any family planning to have Christmas lights. Even individuals who have had the same style for years, might find inspiration from the endless variety of LED lights on the market.
Aside from LED lights, other popular options for the home include Craft Lights. Craft Lights are smaller light strings with only one plug. These are ideal for smaller holiday lighting projects. These lights will amaze family and friends during the Christmas season. Craft light strings are normally used for small lighting projects such as lighting glass blocks or bottles. Like the other lights offered, they also come in a variety of bulb count options.
The year is moving by quickly. This month is the perfect time to start searching for the best Christmas lights. Finding the perfect displays and decorating the inside and outside of the home will bring the Christmas spirit to any family and neighborhood.
For more information on Christmas lights, log on to: http://www.aachristmas.com.