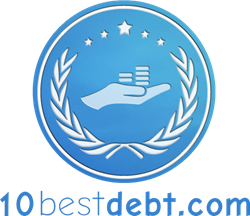 This awards organization (10 Best Debt) named its picks for the top debt consolidation companies in the industry.
San Francisco, California (PRWEB) October 28, 2014
Because many people are suffering from or starting to recover from tough financial times, many debt recovery companies have been able to gain success by helping consumers with their financial difficulties. Most offer to be a go between the consumer and the companies which they owe debt to, negotiating the best rates and repayment plans to help get their client back on solid financial footing. When looking for a qualified debt relief firms, one should look toward those that have been recognized on the brand new list from 10 Best Debt.
10 Best Debt awards companies for getting the absolute best results for their clients. This month, the winners of 10 Best Debt's ranking were announced. This awards organization named its picks for the top debt consolidation companies in the industry. This highly regarded list is respected within the field of debt consolidation firms.
Coming in at #3, American Debt Enders, based in New York, provides counseling and debt consolidation assistance who are struggling with debt. They offer educational services that help teach consumers how to budget, offering their clients resources to help them learn how to handle finances before, during, and after the debt recovery process.
Rated #2 in the debt consolidation industry, Trident Debt Solutions, based in Denver, Colorado, enjoys a Gold Star status from the BBB. This customer service friendly firm prides itself for saving debt strapped consumers money by settling their debts quickly and with low payments. Their reputation for integrity and respect for their clients has earned them a place of honor amongst their competition.
The number one rated debt consolidation firm on the 10 Best Debt list is National Debt Relief. Based in New York, this firm offers online debt relief quotes. They also provide customers with free counseling services. Tackling all types of debt, from medical bills to student loans, National Debt Relief charges no fees until a debt is settled.
For those looking for relief from their financial woes, the assistance and advice of a debt consolidation firm can be an alternative to declaring bankruptcy or failing to take action as one slips into further debt. The companies that have been singled out amongst the best debt relief firms are a good place to start.