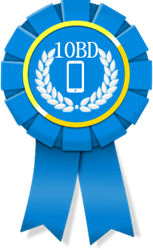 San Francisco, California (PRWEB) May 06, 2014
10 Best Design has released its list of the ten Best App Design Companies for 2014 this month, honoring two New York firms and an Oregon company as the top three among the award recipients.
The software created by mobile app development companies drive business, as well as consumer comfort. As mobile phones and tablets continue to play integral roles in our daily lives, 10 Best Design sought to highlight the top mobile app design firms of 2014.
Blue Fountain Media, of New York, NY, edged out the other mobile app development companies by delivering what 10 Best Design described as exceptional cross-platform development that covered web design, desktop widgets and mobile apps.
Blue Fountain Media's web and mobile services are accompanied by strategy and consulting, online marketing creative design. Notable clients include, the NFL, NASA, AT&T, P&G, Walt Disney and Canon.
"Blue Fountain Media knows what it takes to take care of the backend components of an advanced application for popular mobile platforms," stated 10 Best Design's website.
Forix Web Design, of Portland, Ore., and Dotlogics, of Great Neck, NY were ranked second and third, respectively, in 10 Best Design's ranking for their application specific design skills.
Forix was lauded for its development of desktop websites with elements that scaled perfectly to mobile devices. Forix' notable clients include the US Department of Energy, Black & Decker, Asics and Adidas.
Third-place winner Dotlogics was honored for the design work it has accomplished over all of the major operating systems used by mobile devices. The firm has developed more than 200 mobile applications to date, according to the firm's website.
Rounding out the rest of 10 Best Design's Best App Design Companies for the month of May are Hudson Horizons, of Saddle Brook, NJ; Cofa Media, of San Diego, Calif.; Cadre, of Atlanta, Ga.; Skuba Design, of New Olreans, La.; Cynexis, of Columbus, Ohio. Intechnic, of Chicago, Ill. and Comrade, or Chicago, Ill.