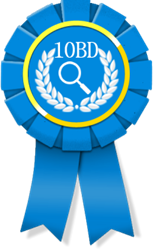 San Francisco, California (PRWEB) November 19, 2013
10 Best Design, the internet's leader for awards and acknowledgments for web design companies, has released its top ten best SEO web design firms for November 2013. 10 Best Design is a respected and reputable company that sets stringent criteria for receiving awards, assuring that only the best companies make the list. 10 Best Design has multiple categories for awards, and the SEO web design firms are the ones that business owners want to look at when designing a website, as the best SEO web design can lead to more traffic to a website, and therefore more customers.
The top three Best SEO Web Design Firms for November 2013 are:
#1: Eight Eleven
Eight Eleven helps businesses with their communication within the company and
with other companies. With over 100 years of combined experience among the
staff, Eight Eleven will design a high-quality website for any company and also offer digital and social media services that include monitoring, promotions and customer service; an integral part of marketing strategy in today's age of the internet.
#2: Southern Web Group
Southern Web Group is an Atlanta based firm that specializes in web development and web software. Southern Web Group primarily serves businesses and clientele in the south, and design unique and easy to navigate sites friendly to the customer. Southern Web Group can cover everything from website design to advertising and copywriting, and can also assist new businesses in getting off the ground.
#3: Evoke Design
Based in Miami, Evoke Design can perform tasks ranging from web design to improving search engine hits and assist with website infrastructure. Their staff help take off the pressure placed on business owners by creating unique websites with beautiful and easy to navigate layouts, and also provide easy to maintain service for all websites.
10 Best Design named seven other companies in their 10 Best SEO Web Design Firms for November 2013, which are: Visify, Orca Creative Agency, High Level Marketing, Digimax, Dinkum Interactive, High Rank Websites and E-Dreamz.
Having a website with a strong SEO element is paramount to any online business or business with an online presence, as their customer can expand greatly as a result of proper SEO design.