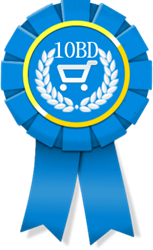 San Francisco, CA (PRWEB) November 20, 2013
10 Best Design has released its top ten best eCommerce web design firms for November 2013. 10 Best Design is a leader in finding firms that have a huge impact on their clients' success through innovative design and web development techniques. 10 Best Design has multiple categories for awards, and the best eCommerce web design firms can help clients' get more traffic and loyalty to their website; therefore increasing profit margins and revenue.
The top three eCommerce web design firms for November 2013 are:
With a combination of web design and marketing and advertising expertise and technology, The Creative Momentum landed on the top of the list of Best eCommerce Web Design Firms. The Creative Momentum strives to bring customers to a business through SEO services and an innovative, aesthetically pleasing web design that brings new customers in and keep existing customers visiting. A high-quality website is imperative for an eCommerce business, as customers expect a high-quality and functional website that allows them to shop for products and services hassle free.
#2: Full English
Based in London, Full English's staff has advanced knowledge of the Magneto platform that allows for the crafting of tailored solutions for each unique client. Full English assures that functionality and fluid flexibility intersect to help eCommerce websites function smoothly and bring in new customers.
#3: Buildrr
Buildrr employs only the most highly qualified professionals who specialize in everything from web design to web development and online marketing to advertising. Any business seeking to fully become part of the reality of 21st century eCommerce should investigate what Buildrr can do for them. Buildrr can take over the online aspect of any business and significantly increase the traffic flow to the website, and through a beautiful and easy to navigate web page, will retain existing and new customers alike.
The other seven Best eCommerce Web Design Firms for November 2013 include: Hudson Horizons, Rose City Websites, Isadora Designs, Southern Web Group, Cofa Media, Skuba Design and Vertex Web Studios.