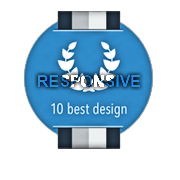 San Francisco, California (PRWEB) August 05, 2013
10 Best Design is the internet's premier web design firm awards organization. They have been working to bridge the divide between the capabilities and potential of modern web design technologies and the websites being produced for clients around the world. The 10 Best Design team believes that the quality of websites entering the market today do not live up to their standards of high quality web design.
As a result, the 10BD web design firm awards exist to give web design consumers a centralized location to find agencies which provide services that live up to those standards. To further this goal, the organization has begun to rank the best companies for specific modern web design technologies; therefore, they have created the brand new 10 Best Responsive Web Design Firms awards.
Responsive web design is a technique which allows for mobile compatibility through fluid detection of screen size. When the website loads, it checks the width of the browser and changes the layout based on that information. Responsive web design is believed by many to be future of mobile browsing.
At this point however, not every development firm is offering responsive web design and even fewer are providing top responsive layouts like the companies on 10BD's 10 Best Responsive Web Design Firms.
The winner of the Best Responsive Web Design Firms awards is Devbridge based in Chicago, Illinois. This company is made up 30 talented developers who believe in building websites which will be relevant in terms of design for years to come. Their own websites' use of responsive web design is a testament to their technical knowhow.
In second place, DeepBlue is no stranger to design awards. In the past, they have won a variety including the well-known Addy & Webby awards. Across their nearly 2,000 clients, they have created dozens of responsive websites. DeepBlue truly knows how to create a graceful transitions between responsive layouts.
Kohactive, a longtime 10 Best Design award winner, has been selected as the #3 Best Responsive Web Design Firm. This agency not only works with responsive web design, they also build strictly mobile applications.
The full ranking of the 10 Best Responsive Web Design Firms is as follows:
1. Devbridge (Chicago, Illinois)
2. DeepBlue (Atlanta, Georiga & Laguna Niguel, California)
3. Kohactive (Chicago, Illinois)
4. Vento Solutions (New York, New York & San Francisco, California)
5. Forix Web Design (Portland, Oregon)
6. How Media (Seattle, Washington)
7. Upstatement (Boston, Masschusetts)
8. Alyson Design (Austin, Texas)
9. Hyper Arts (Oakland, California)
10. Inflexion Interactive (Hoboken, New Jersey)
For more information about 10 Best Design, the Best Responsive Web Design Firms Awards, or any of the winners, visit http://www.10bestdesign.com/firms/responsive/.