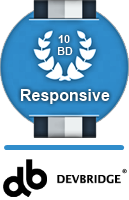 Chicago, Illinois (PRWEB) August 08, 2013
Rankings on 10 Best Design's awards are highly sought after by companies in the web design industry, and this month, Devbridge has achieved the coveted #1 spot on the Best Responsive Web Design Firms awards for their ability to provide their clients with seamless functionality and striking beauty regardless of the access platform. Each site they design in stunning at every resolution from the compact screen of a Smartphone to the largest desktop display, changing fluidly to fit the hardware at hand.
Devbridge's own website is a perfect example of what responsive web design should be, easy to read and navigate via a computer, tablet or smartphone without losing the aesthetically pleasing elements that make it unique. It is visually appealing with an interesting but unobtrusive color palate comprised primarily of whites and grays with splashes of aqua and red. The layout exists on a single plane and doesn't require the user to as excess of scroll bars to find the information they seek. When accessing their site via a smartphone, large images are excluded but the branding is still obvious. The menu converts from large buttons across the top of the page to a drop down menu. The utility remains. These are the hallmarks of design Devbridge passes onto its clients.
It is a Chicago-based web design company with a large staff assembled in Kaunas, Lithuania. The team just celebrated its fifth birthday in July of this year having designed over a 100 websites with a 90% client repeat rate. This year alone, they've completed an impressive 53,283 hours of coding and the meter continues to tick up with another four and a half months left until 2013 slips into 2014.
This is only possible because of their large team of seventy-five self-professed code ninjas, pixel pushers, business people, marketing individuals, infrastructure-ists, and operations operators. Their crew has grown exponentially from an original bare-bones crew of just three when they humbly opened their doors in 2008. Together this close-knit team works hard and plays even harder. Taking pride in turning that traditional, team-building trust fall on its head, these guys and girls take it to the extreme with events like the Tough Mudder obstacle race and game nights featuring cutthroat Mortal Kombat tournaments.
As a company they find great pleasure in knowing about new web technologies before they exist, making telemarketers weep and developing elegant websites and apps. It's obvious that they have insight into taking their work seriously without shedding the creative whimsy needed to be innovative and imaginative.
Clearly this special mix of people and ideals is working. Their clients range from multi-national companies such as Microsoft, Whole Foods, and Fonts.com all the way to the other side of the spectrum with companies just starting out.
Multi-faceted and forward-thinking, Devbridge does it all. Their services encompass web development and design, app development, and public cloud development and deployment. Products includes content, ecommerce, and association management systems. Their website also contains a bonus page featuring free, open source widgets available for download.
10 Best Design isn't the first to notice this firm's outstanding work. In 2012 Best and Brightest placed Devbridge of its list of companies to work for and Brill Street Company named it one of the top fifty employers for Gen Y emerging talent in Chicago. Other awards include an International MarCom Gold Award for outstanding creative achievement by marketing and communication professionals and Best in Class by the Interactive Media Awards for excellence in the design.
In the past five years Devbridge has quickly moved up the web development ranks and is now an established standard for companies to measure their quality, success, and innovation against. They will undoubtedly spend the next five making web design headway in currently unimaginable ways. 10 Best Design looks forward to seeing what they come up with next.