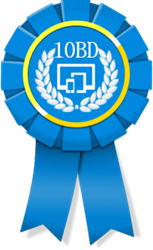 San Francisco, California (PRWEB) November 21, 2013
10 Best Design, a ranking and awards company for web design, has announced its Best Responsive Web Design Firms ranking for 2013. The responsive web design concept concerns designing a website that promotes readability and ease of use by reducing the need for resizing, panning and scrolling across a variety of device types from mobile to desktop.
Industry professionals created the 10 Best Design ranking and review concept to encourage design companies to set aside outdated website design concepts and fully embrace the capabilities of HTML5 and Web2.0. It has grown into the web's premier source for top web design companies. The awards consider web design firms from all over the world in their search for the best and brightest in responsive web design. As a newly added award, the Best Responsive Web Design Firms Awards recognizes the best in website design that addresses the different needs of a variety of users from home computers and laptops to mobile tablets and smart phones. They are proud to announce the winners of this brand new awards category. The top responsive web design firms recognized include:
1) Devbridge of Chicago, IL
2) The Creative Momentum of Atlanta, GA
3) Kohactive of Chicago, IL
4) Buildrr of Syracuse, NY
5) Forix Web Design of Portland, OR
6) Paradigm Media Group of St. Louis, MO
7) Project 6 Design of San Francisco, CA
8) Deep Blue of Atlanta, GA and Laguna Niguel, CA
9) Colbow Design of Cleveland, OH
10) Clever of St. Louis, MO
Further information on the winners, their awards and other awards offered by the organization can be found on the 10 Best Designs website at http://www.10bestdesign.com/firms/responsive/.
The company 10 Best Designs provides ranking for the best web designs and web design firms. They can be reached through their website or on Twitter at @10BestDesign.