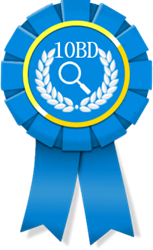 San Francisco, California (PRWEB) January 29, 2014
As the world welcomed in 2014, California-based 10 Best Design was doing what they do best – ranking and congratulating the top search engine optimization (SEO) web design firms for January. Boasting a team of experts seasoned in online branding and search engine optimization from all around the U.S., 10 Best Design reviews the best web design firms based on a number of quantitative and qualitative ranking points. With many years of experience in web design and development under their belts, 10 Best has also worked with and in such platforms as PHP, JS, CSS, HTML and more.
Of the 10 ranking spots in 10BD's Best SEO Web Design Companies for January 2014 list, it was California-based Cofa Media, Illinois-based Comrade and Georgia-based The Creative Momentum that took the top three places, respectively. These agencies, according to 10 Best Design representatives, were selected based on their abilities to create "amazingly responsive" websites while properly marketing these sites on search engines using optimized text, images, site structure and other tactics. Cofa Media has been ranked amongst 10 Best Design's overall best web design firms consecutively in the past, standing out in a sea of competitors for their expertise in mobile applications and their savvy approach to getting more traffic to their clients' sites.
With specialties that include online marketing and SEO content, Chicago-based Comrade – landing a respectable second-place finish on 10 Best Design's list – has been flexing their design skills muscle since 2007 to "better serve businesses that need updated information." Branding and web design also remain amongst the agency's more sought-after services. Likewise, third-place winners The Creative Momentum, out of Atlanta, understands that SEO is a way to target and convert their clients' online presence. The company utilizes a variety of methods to direct more traffic to their clients' sites, from paid search to context advertising approaches.
Landing in places four through 10, respectively, on 10 Best Design's best SEO web design firms list were Minneapolis-based Artropolis, Washington D.C.-based CLiKZY Creative, Portland-based Forix Web Design, New Orleans-based Skuba Design, Syracuse-based Buildrr, Redondo Beach-based Isadora Design and Saddle Brook-based High Level Marketing.