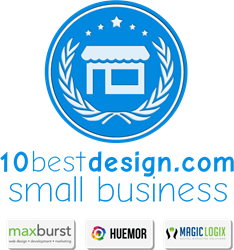 Long Island, New York (PRWEB) October 06, 2014
The wait is over as 10 Best Design recently announced its annual list of the top ten web design firms for small businesses. The increased exposure that comes with being a member of 10 Best Design lists means the list has become a highly sought after award for design firms.
Coming in at a more than respectable third place is Texas-based firm Magic Logix. The firm won a top spot for work on innovative applications, including a new symptom diagnostic app called Doc Response. Long Island's Huemor Designs took second place, thanks to the firm's focus on small business and innovative approach to design.
The top spot on this year's list of small business web design agencies goes to Maxburst, whose client list includes giants Trump International and Jet Blue. The company's ability to provide service to match any size client landed it at the top of 10 Best's list.
About 10 Best Design
Based in San Francisco, 10 Best Design is the leading source for showcasing superior design skills in areas that include graphic design, web design, product design and architectural design. The 10 Best Team is comprised of experts in online branding and SEO and the team hails from all across the US who lend their expertise to ranking the top Startup web design companies.
The experts at 10 Best review, rank and award the best of the best in design, based on a company's design skills, customer service and allover ranking. The company ranks companies on virtually any factor that a customer can consider, including Word Press design, Ecommerce and mobile apps. In addition to the award for Top 10 Best Small Business Web Design Firms honoring the cream of the crop in Small Business website design agencies, the company regularly releases 10 Ten Lists that spotlight the cream of the crop in all aspects of design and customer service.