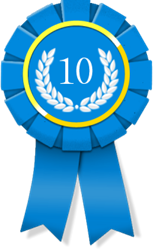 San Francisco, California (PRWEB) March 10, 2014
A respected award-granting web-based organization, 10 Best Design has made its announcement of the top web development companies. Coming in at number one is The Creative Momentum of Atlanta, GA, followed in second place by Blue Fountain Media of NYC, and CLiKZY Creative of Washington, DC. As of one the most encompassing awards organizations for a variety of web design firms, 10 Best Design evaluates various criteria in the selection of its design-based awards. Its new sister website -- called 10 Best SEO -- was just launched, slated to become a top platform for recognizing excellence in online marketing.
The number four spot went to Forix Web Design out of Portland, OR, while the number five spot went to Skookum out of Charlotte, NC. Numbers five through 10 recipients included Kohactive based out of Chicago, IL, Southern Web Group out of Atlanta, GA, Cofa Media out of San Diego and LA, Isadora Design out of Redondo Beach, CA, and Dotcomweavers out of Paramus, NJ, respectively. These were named as the Best Web Design Firms for the month of March 2014.
The Creative Momentum, which was awarded first place, is a full-service web design firm that specializes in SEO, UI/UX, mobile and graphic design, branding and corporate identity, graphic design, business management mentoring, video and media, advertising and online marketing. Its clients include high-tech B2B, B2C, consulting, non-profit and security firms.
Awarded second place is Blue Fountain Media, a firm that offers services for both start-ups and Fortune 1000 companies. Services range from Business Analysis & Consulting to Information Architecture & User Experience. It also provides top-notch Copywriting, PPC, SEO and responsive web design, as well as Brand, Campaign and Content Strategy.
In third place is CLiKZY Creative, offering dynamic website design and compelling development skills. Services include comprehensive marketing campaigns that incorporate SEO, social media, marketing, content management, interactive design, Joomla development, branding and custom PHP development.
In fourth is Forix Web Design, known for its strides in the field of Responsive Web Design (RWD), SEO, UX, ecommerce and interactive mobile apps, due to the collaboration of more than 60 experts skilled in web development and design.
Fifth places goes to Skookum, an agency that has eight years of experience blending progressive open source systems with enterprise software and hardware. With a mix of skilled backgrounds in business and technology, Skookum has helped a variety of clients, from healthcare and finance to transportation and education.
All the firms recognized in the top 10 by 10 Best Design have showed exemplary achievement in all aspects of web design and development. They all work one-on-one with clients to achieve the same end result: more lead and sales generation through compelling web design that garners increased exposure online. 10 Best Design culls this list from a variety of factors, assembles and filters them by specific characteristics, and then compiles a list of the best of the best. This is brought about by a highly analytical process that weighs several variables. The result is a list that allows potential clients to focus on the firms that can have the most benefit to them, whether their business is large or small. Variables range from a firm's technical skills and deadline-meeting ability to rates and satisfaction ratings. 10 Best Design presents its top 10 web design and development firms on a regular basis to keep things fresh.