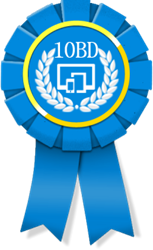 San Francisco, California (PRWEB) August 27, 2014
10 Best Design (10BD) is the top website on the internet for ranking and reviewing web design companies as well as awarding the best providers of specific types of web design. The 10BD organization is based in San Francisco, California and is run by a team of experts in online branding and search engine optimization. 10 Best Design is committed to helping people connect with the best web design firms. To determine which web design firms are the best, 10 Best Design ranks the companies using its Analytic Review Algorithm. The algorithm factors in things like online research, reviews, web traffic, client research, SEO rankings, previous accolades, listing fees, and proprietary analytics.
Responsive web design uses fluid layouts to change how a website looks and how the user interfaces with it based on the width of the screen of the device the website is being viewed on. With responsive web design, web designers can make websites that work seamlessly on tablets and mobile phones as well as laptops and desktop computers, making the sites much more user friendly.
The top RWD companies on Best 10 Design's list are Big Drop Inc and Blue Fountain Media. The first place winner, Big Drop Inc, is based in New York City. The company is a prominent web design agency that is known for its responsive website design, which syncs impeccably across multiple platforms, even including its animations and static graphics. The second place winner Blue Foundation Media is also based in New York City. This company is known for is web design being both responsive and function, while also being innovative. Both of these RWD web development firms provide web services to help their customers build solid presences online.
Best 10 Design ranks the top responsive web design companies and awards the top ones in order to help visitors to its website looking for web design services. With their helpful ranking system, visitors can easily find the top companies in responsive web development, or in another category they are interested in, so that they can get help making their own website the best it can be. Visitors can also search for companies by city.