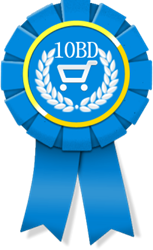 San Francisco, CA (PRWEB) February 05, 2015
10 Best Design takes pride in being an independent entity that gives out awards to some of the best companies in the e-commerce industry. They have compiled a list of rankings for firms that qualify for the best e-commerce web design firm.
Coming in at number one as the best e-commerce web design firm is Big Drop Inc. Having its main office in the heart of New York City, this company understands how to work with small businesses and chain retailers seeking to capitalize sales on the e-commerce market. When it comes to reaching out to shoppers worldwide, Midtown Manhattan and Wall Street provide plenty of influence for Big Drop Inc. This agency captures target audiences all over the globe by creating online shops that offer international handling, processing and shipping.
Placing number two in the award category is Blue Fountain Media. The commercial and marketing culture of Madison Avenue in Manhattan plays a big role in the way that Blue Fountain Media creates online stores for clients. The solutions by this NYC-based firm focus on optimizing sales conversion on online shops. Blue Fountain Media understands the utilities of content management systems for merchants. This agency is also proud to work with even the smallest mom-and-pop shops and other traditional brick-and-mortar businesses.
The number three firm for best e-commerce web design is Maxburst. Working out of a quiet office in the outskirts of New York City, Maxburst is an agency that's still heavily inspired by the commercial atmosphere of the "Big Apple." Maxburst's website developers install the latest open source software onto websites. Product catalogs, payment processing and other essential components of online shops are created quickly in a cost-effective way. Maxburst programmers have extensive knowledge in scripts that can enhance the functions of open source platforms.