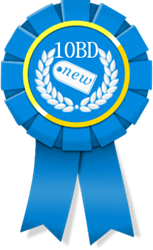 San Francisco, California (PRWEB) February 03, 2014
When the 10 Best Design organization first formed, they worked toward the sole goal of bridging the divide between the capabilities of modern web design and the websites being created for clients around the world. Through diligent dedication and the creation of their awards algorithm, 10BD has been able to grow to become one of the most highly visited ranking and reviews sites online. This month, 10 Best Design is proud to announce the inaugural release of their Best New Web Design Firms awards.
The design houses being recognized in the Best New Web Design Firms ranking include only agencies which have recently been added to the 10BD company directory; they are NOT new to the industry. In fact, some of the firms being awarded here have been doing business for a number of years.
Although 10 Best Design reviews a lot of web design companies, those awarded in this ranking are truly among the top to get onto 10BD for the first time.
Coming in first place is Sourcebits, a San Francisco-based team which boasts 500+ mobile, web, and cloud applications. They have even worked with prolific companies such as Intel and Adobe. Sourcebits can now forever boast a first place ranking on 10BD's Best Newly Added Web Design Firms page.
Xplode Marketing appears in the number two position. The Xplode crew is located in Sarasota, Florida, and has worked with clients ranging from universities to restaurants to law firms. Regardless of the industry in which their client does business, this team is well-situated to handle their needs.
Propeople is the full-service digital agency which came in third place. This company works with clients across the country, from their offices in San Jose, California, Washington D.C., & Boise, Idaho. They also handle international work from their foreign offices in Denmark, Sweden, Austria, Bulgaria, Moldova, Ukraine, and Brazil.
The remainder of the winners of the Best New Web Design Firms are as follows:
4. Design Buddys (Orlando, Florida)
5. Aryosys (Costa Mesa, California)
6. Golden Spiral (Nashville, Tennessee)
7. Visual Realm (Tampa, Florida)
8. AlwaysPlay (Easthampton, Massachusetts)
9. Shkalix Smarter Design (Chicago, Illinois)
10. SK-Creative (Stamford, Connecticut)