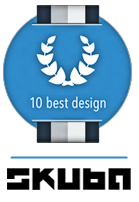 New Orleans, LA (PRWEB) July 09, 2013
10 Best Design continues to make use of its unparalleled expertise in the arena of web design and development in publishing its list of 10 Best Web Design Firms who have demonstrated performance of outstanding quality in this area. The agencies featured in the 10 Best Design awards represent the epitome of innovation, creativity and skill in devising web-based solutions to client briefs. Presenting their awards on a monthly basis allows 10 Best Design to follow the progress of established companies and encourage the emergence of new ones, always showcasing the very best in web design. Given the ever-increasing competitiveness of this industry, 10 Best Design's awards offer their recipients a stamp of approval which immediately confirms their level of proficiency.
10 Best Design compares websites and campaigns created for various industries, and to reflect the varying demands of designing successfully for these niche areas, presents awards in more specific categories. These include biotech, entertainment, non-profit, travel and automotive amongst many others. However, the most noteworthy award list on which to be featured is that identifying the best overall web design firms.
The awards are presented according to 10 Best Design's assessment of each design firm's level of performance in certain areas which are integral to a website's success. These include search engine optimization to ensure that the website appears as close to the top of search engine listings as possible, maximizing online visibility and driving up website traffic (which is also considered in the assessment process). Extensive client and online research is conducted and ranking points awarded in all of these areas, before being collected, analyzed and interpreted to generate a list of the top ten.
In 4th position in the overall award category this month we find Skuba Design, a renowned web design agency based in New Orleans which was established in the year 2000. Skuba is enjoying a steady rise to prominence having been featured in 10th position in June's 10 Best Design top ten. The ethos at Skuba is to provide the very best service in catering for its clients' requirements by gathering together highly qualified, exceptionally creative individuals. Their team's collective level of experience in design, illustration, online marketing and search engine optimization all fuse together as they construct vastly effective web and print campaigns for their clients. Skuba's reputation is evident in its extensive history of working on high-profile projects; AOL, Deutsche Bank, The Discovery Channel and Audi are all examples of the clients who have recruited their services. Dynamic in visual design, meticulous in development and strategic in overall approach, Skuba sees its clients' projects through from the initial concept to final delivery.
The analytical system by which 10 Best Design is able to rank design companies is unique in that it allows an overall and comprehensive comparison which is still meaningful. Receiving a 10 Best Design award is now becoming a benchmark of success which web design companies are keen to acquire.