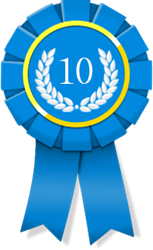 San Francisco, California (PRWEB) November 18, 2013
10 Best Design has announced the winners of their 10 Best Web Design Firms for November 2013. 10 Best Design catalogs firms which specialize in web design and the development of other internet-based applications from around the world. 10BD uses a set of strict criterion to select those firms which stand out on top and are featured in the "ten best" categories. Any business hoping to stay relevant in today's economy must make tremendous efforts to maintain a functional and aesthetically pleasing web page if they hope to recruit new customers and keep existing ones. The firms featured on 10 Best Design have a high success rate of helping their clients' succeed through innovative web design.
The three best web design firms for November 2013 are:
#1: CLiKZY Creative
CLiKZY Creative has been a major competitor in interactive design and online marketing strategies since 2006. Their professional staff has created over 250 websites based on web design and branding projects, and they strive to create a website that is perfect for each clients' unique needs.
#2: Buildrr
Buildrr is a major web development firm that acts as anything form a project consultant to a website analyst. Their dedicated and professional staff will design a website that is a perfect fit for each clients' needs and industry. Their award winning team will generate more traffic to clients' web sites through SEO efforts and an innovative design, increasing the potential customer base for each client.
#3: Forix Web Design
Forix Web Design is a mobile and web development company known for customized projects. Through an attractive design and innovative mobile application development, Forix Web Design has been helping businesses realize success through their beautiful and functional web site designs. The staff at Forix Web Design is composed of veteran project managers, experienced software engineers and innovative UX testers, so clients are in good hands with Forix Web Design.
The other seven companies selected as Best Web Design Firms include the following: The Creative Momentum, Isodora Design, Cofa Media, Southern Web Group, Kohactive, Skuba Design and Hudson Horizons.
A web design firm that has the ability to create websites that are both aesthetically pleasing and user friendly is an integral component of any businesses marketing plan. With the explosion of internet use in the past decade, the importance of a professional and functional web design firm is more important than ever.