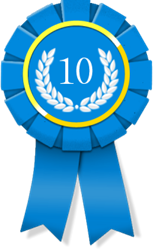 San Francisco, California (PRWEB) January 07, 2014
10 Best Design, reviewing the best web design firms based on a myriad of factors and implementing a unique platform of ranking points, announced its best web design firms list for January 2014. In the first-place top position was Washington, D.C.-based CLiKZY Creative, noted for its wide variety of services including web design, CMS platforms and ecommerce services while in second and third places, respectively, were Syracuse, NY-based Buildrr and Portland, Oregon-based Forix Web Design. The best web design firms include businesses from across the U.S. displaying an ability to meet client requests and produce websites which "progress the industry" by using "innovative style and techniques."
In ranking CLiZKY Creative in the top first-place spot, 10 Best Design recognized the firm's creative design team that specializes in small and medium-sized businesses, ensuring they receive the best website design to drive traffic to their sites. CLiZKY handles projects as simple as designing a landing page to as formidable as custom PHP development, and has landed on a number of 10 Best Design's "best of" lists in the past.
Second-place winner Buildrr, out of Syracuse, New York, was recognized for not only creating quality websites but the way in which the firm takes into account the views of the client. The design company consistently helps clients garner more traffic to their current websites through a plethora of approaches including mobile apps. Portland, Oregon's Forix Web Design, landing in third place, was recognized for its complete web solution services for any type of business. Applying innovative design and development protocols in its projects, Forix creates websites that "capture the attention of visitors" while "turning them into clients;" further, the firm offers complete e-commerce solutions while tapping into the latest mobile app development technologies.
Landing in best web design firms places four through 20, respectively, were California-based Cofa Media, Georgia-based The Creative Momentum, Georgia-based Southern Web Group, Louisiana-based Skuba Design, California-based Cadre, Illinois-based Comrade Web Design, Ohio-based Cynexis, Illinois-based Kohactive, California-based Isadora Design, Oregon-based Rose City Websites, Michigan-based High Level Marketing, California-based Project6 Design, New Jersey-based Hudson Horizons, Minnesota-based Artropolis, New Jersey-based Dotcom Weavers, Florida-based Bayshore Solutions and Texas-based Custom Software Lab.