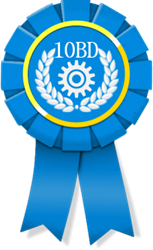 San Francisco, California (PRWEB) January 08, 2014
10 Best Design has announced their very first selections for the Best Custom Web Design Firms in the month of January, 2014. The winning firms are recognized for their ability to develop new websites from scratch without the use of pre-made templates of any sort. These firms are judged on several criteria, including visual aesthetics, client satisfaction, and the beneficial services they offer to their clients. This data is aggregated into an algorithm, and the results are displayed on the 10 Best Design website.
The first place winner of 10BD's Best Custom Web Design Firms - The Creative Momentum - is from Atlanta, Georgia. This firm is being recognized for its ability to put their clients' visions on the screen and provide multiple services such as search engine optimization, web and mobile design, and UI/UX design. They are able to provide code that makes the website available across multiple platforms, allowing their clients to import their own video and media content.
The runner-up is Isadora Design from Redondo Beach, California. Isadora Design is staffed by a team of talented designers who specialize in graphic design and helping clients' websites drive up search engine results. The firm maintains their belief that their custom-made websites will gain better results over any "freebie" website designer, and their dedicated team of web designers put passion and energy into every project.
In third place is Forix Web Design out of Portland, Oregon. This fast-growing firm offers clients a variety of options, providing great assistance to those interested in the world of eCommerce. Forix brings a wealth of creativity to the table and can help clients looking to build a brand new website or simply improve upon what they already have.
To view the rest of the top ten and read more information about each of the finalists, be sure to visit 10 Best Design.