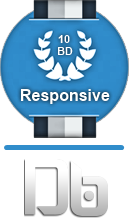 Los Angeles, California (PRWEB) August 12, 2013
DeepBlue has taken the second place award on 10 Best Design's list of Best Responsive Web Design Companies. Their use of images, bright color palettes and complex design elements help them stand out in a sea of pre-made templates and cookie-cutter websites.
Established in 1999, DeepBlue is a grandfather of modern website design companies yet manages to remain the leader of the pack even as younger firms are born. Standing the test of time, DeepBlue has adapted to each fickle whim technology has thrown at them over the last fourteen years and continues to be an example for longevity in one of the most fast-paced industries on Earth. In that time they have helped over 1000 customers produce the perfect web design for the their product or service, created of 300 e-commerce sites, and completed over twenty-five responsive sites.
Based out of both Los Angeles and Atlanta, the DeepBlue team is made up of thinkers, innovators, creatives, strategists, techno-geeks and fanboys who are dedicated to creating memorable brands and high impact websites that stay with the viewer long after the web browser has been closed.
Their own website is complex and exhibits animation like features that give users a unique viewing experience. A masterpiece of dozens of minute details and large graphic pieces working together to beget a single vision, their site works as its own portfolio, showing a variety of different options without being messy or over the top. The mobile site is just as impactful despite the fact that many of the details have been toned-down and placed in the background to enhance readability on the smaller screen of a tablet or smart phone. In essence, they build responsive sites that manage to keep their quirks and branding elements regardless of the user's point of access.
Their portfolio is a living, breathing creature full of websites made not only to survive a new format, but to thrive in their new environment. Watching their work morph from the standard website to the responsive mobile website is a treat. Each element is amended to fit the intended platform and keep the company's individual branding goals in mind.
DeepBlue's unique view of responsive web design has not gone unnoticed. The company has caught the eye of many national and multi-national companies including Mazda, Miramax Films, the United States Courts and even NASA. They've been awarded a Webby award and an Addy award. They have also been featured in both Forbes magazine and on CNN.
DeepBlue has created a legacy of slick, modern, fun work that integrates all the right elements to make a website unforgettable to consumers. Unlike many companies that have surpassed the ten-year mark, DeepBlue continues to be a leader in pushing the envelope and creating formerly unseen solutions to complicated questions. The company regenerates constantly and learns how to not only keep up with new-fangled companies, but create new technologies and techniques before anyone else. Like a fine wine, DeepBlue's web design just continues to improve.