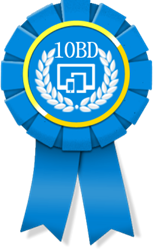 San Francisco, California (PRWEB) January 30, 2014
The organization 10 Best Design (10BD) announced its Best Responsive Web Design Firms for January 2014. 10BD searched the Internet and awards 10 companies and websites with this title. This award category highlights responsive web design.
Responsive Web Design is a method used by web design professionals to optimize the viewing experience of the user. This is accomplished by striving to craft the website for easy browsing and providing enhanced navigation. The viewer experiences little distraction due to resizing, scrolling or panning. The responsive websites work across all the devices that people use to access the Internet, whether by Smartphones, tablets, readers or desktop computers.
The companies named by 10BD as January 2014's Best Responsive Web Design Firms include:
1. Cadre is based in Atlanta, Georgia with offices in Los Angeles and San Diego. This company uses the latest technology to design websites for consumers as well as their clients. Cadre also was named by 10BD as one of the Overall Best Web Design Firms.
2. Kohactive, with offices in Chicago, Illinois, has been a strong web design firm since their founding in 2008. Their layouts are known for their modern esthetic and approachability by customers.
3. The Creative Momentum from Atlanta, Georgia involves their customers at every stage of design and development. A full-service creative agency, they take a universal approach to their design projects.
4. Inflexion
5. Southern Web Group.
6. Rose City Websites
7. Buildrr
8. Cynexis
9. Cofa Media
10. Forix Web Design
10BD was created by industry professionals to recognize the most creative and technically proficient web design companies that use all the capabilities of HTML5 and Web2.0. 10BD has become the world's outstanding source to get the best web design firms possible.