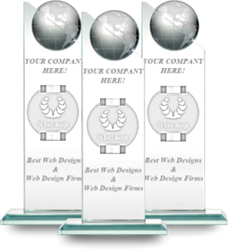 Amazing customer satisfaction and delivery of excellent services.
San Francisco, California (PRWEB) October 15, 2013
The 10 Best Web Design Firms were recently named by the San Francisco-based awards organization, 10 Best Design. The winners were selected from a diverse number of professional companies across the globe, including ecommerce, responsive, parallax and SEO web design firms. Among the criteria used by 10 Best Designs for their rankings were creativity, innovation, reliability and reputation.
New York design group Buildrr Web Design sits at the pinnacle of 10 Best Design's list. The Seattle-based firm earned the top spot for "amazing customer satisfaction and delivery of excellent services." 10 Best Design gave the Buildrr group special recognition for the success rate of the businesses it serves.
The number two spot on the list goes to Clikzy Creative of Washington, D.C., which was recognized for outstanding website design. In the third spot is The Creative Momentum of Atlanta, Georgia. The Creative Momentum specializes in custom designs, and the company has been a consistent winner of 10 Best Design's annual awards.
The criteria for the top 10 list includes amount of traffic generated, SEO rankings, client research, reviews, online research, previous accolades and other sources. 10 Best Design uses an analytic algorithm for unbiased ranking of companies in its directory.
The 10 Best Design group is made up of qualified web design professionals with many years in the industry, including SEO and marketing experts. According to a company spokesperson, the winning web design firms deserve to be recognized for their "unique talent within the industry."
The Top Web Design Companies as ranked by 10 Best Design:
1. Buildrr of Syracuse, New York
2. Clikzy Creative of Washington, D.C.
3. The Creative Momentum of Atlanta, Georgia
4. Forix of Portland, Oregon
5. Cofa Media of San Diego and Los Angeles, California
6. Southern Web Group of Atlanta, Georgia
7. Kohactive of Chicago, Illinois
8. Skuba Design of New Orleans, Louisiana
9. Hudson Horizons of Saddle Brook, New Jersey
10. High Level Marketing (HLM) of Farmington Hills, Michigan